As the end of the world draws nigh, let's indulge a little and enjoy my decadent, rich chocolate cake. It'll make you feel better about life. Promise. This is the best flourless chocolate cake recipe ever. I guarantee it.
A quick word about the ingredients. This cake is flourless so it's a fabulous gluten free dessert option.
Sugar doesn't feature in our daily diet so I've adapted this recipe to work with 1/2 cup of sugar. For my taste, this is the perfect amount of sugar to offset the intensity of the dark chocolate. With 1/2 a cup, this cake has a hint of sweetness. In my opinion, dark chocolate cakes should not be sweet. They're supposed to be rich and indulgent.
If you like your cakes sweeter, simply increase the amount of sugar – all the sugar gets added to the whisked egg whites and won't mess with the structure of the cake when it bakes.
Ingredients
450g of extra dark chocolate. We like using Dr. Oetker, but any good quality dark chocolate will work.
100g of unsalted butter
Nine large organic egg yolks
Nine large organic egg whites
1/4 teaspoon of cream of tartar
1/2 cup of granulated sugar
Optimal: confectioners sugar, berries, cream (for serving)
Method
To start, pre-heat the oven to 180°C (160°C fan). Grease two 18cm round cake tins or one 23cm tin.
Separate the egg whites and yolks. Place the whites into a mixing or whisking bowl, and the yolks in a separate bowl.
Next up, whisk the egg whites until you get firm peaks. I use an electric mixer, but you can mix them by hand if you want. It just takes longer and tires your arm out, but it's a good workout that'll get your heart rate up.
When the egg whites start getting a bit foamy on the edges (usually around one minute in an electric mixer) add the cream of tartar. You don't have to add cream of tartar, but it does help when whipping egg whites. As the egg whites continue to aerate, gradually add sugar until you have stiff peaks.
While the eggs whites are beating, set up a double boiler using a large bowl. Add the butter first and let it melt. Once it's largely melted add all the chocolate, and stir occasionally. The chocolate will melt quite quickly.
The butter helps prevent the chocolate from seizing up and separating. Using a double boiler helps prevent the chocolate from burning and becoming bitter.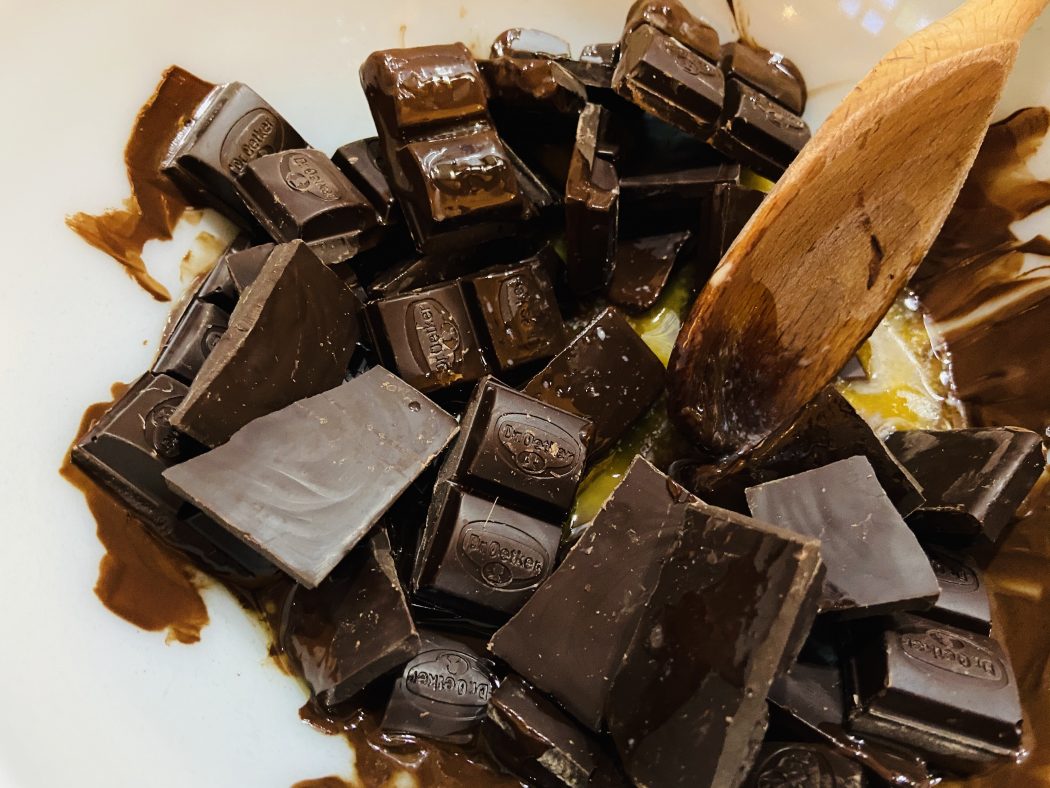 Once the chocolate has melted and it's luscious and glossy, it's ready to move onto the next step. Your egg whites should also be ready soon.
It's time to add the egg yolks to the melted chocolate. I use a tablespoon to add one yolk at a time and then use a wooden spoon to mix it altogether. Do not add all the yolks at the same time. Always add yolks one by one and mix each one until fully incorporated.
With each yolk you add the mixture will thicken. By the time the last yolk has been added, you should have a very thick mixture.
Now we're going to add the whisked egg whites to the chocolate/yolk mixture. Once again, take your time and make sure that the egg whites and the chocolate mixture of fully incorporated, as this step adds volume to our cake mixture.
Be patient and do not rush this step. As with the yolks, add the whipped whites a couple of big spoons at a time, folding them into the mixture using a spatula.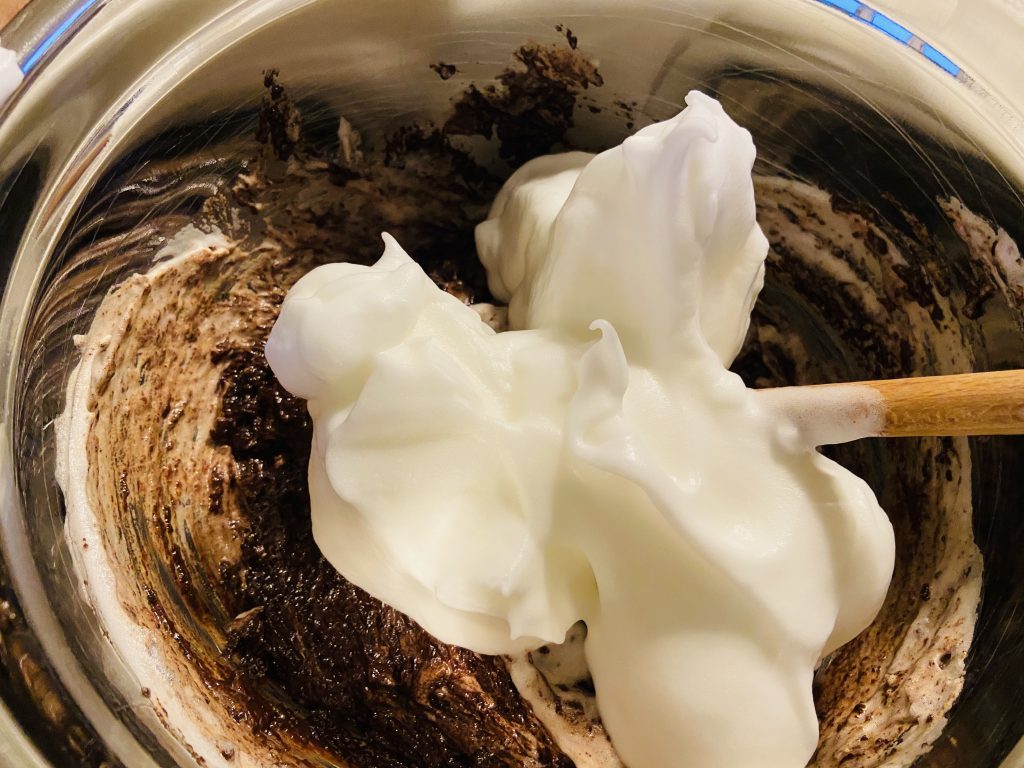 Do not stir as we want to retain as much air in the final mixture as possible. That's why folding is important. You will know when it is correct because you will have a smooth rich chocolate batter.
Pour the mixture into your baking tin(s) and use a silicon spatula to scrape out as much of the mixture as possible. Every last drop counts.
For home consumption, I typically like to bake the chocolate cake using two smaller (18cm) baking tins and the baking time is about 30-35 minutes.
If you are using a larger baking tin (23cm) this will take about 50-60 minutes to bake. These are just guideline times because each and every single oven is different. To be safe keep checking on the cake to make sure it's not burning.
Once the top of the cake is shining and has started to crack you will know that it's ready. As a final test you can put a wooden skewer into the centre of the cake and if it comes out clean or slightly covered in chocolate the cake is definitely ready. Do not over bake, as the cake will become very dry.
Remove from oven and let it cool down. When you're ready, dust with icing sugar and decorate it.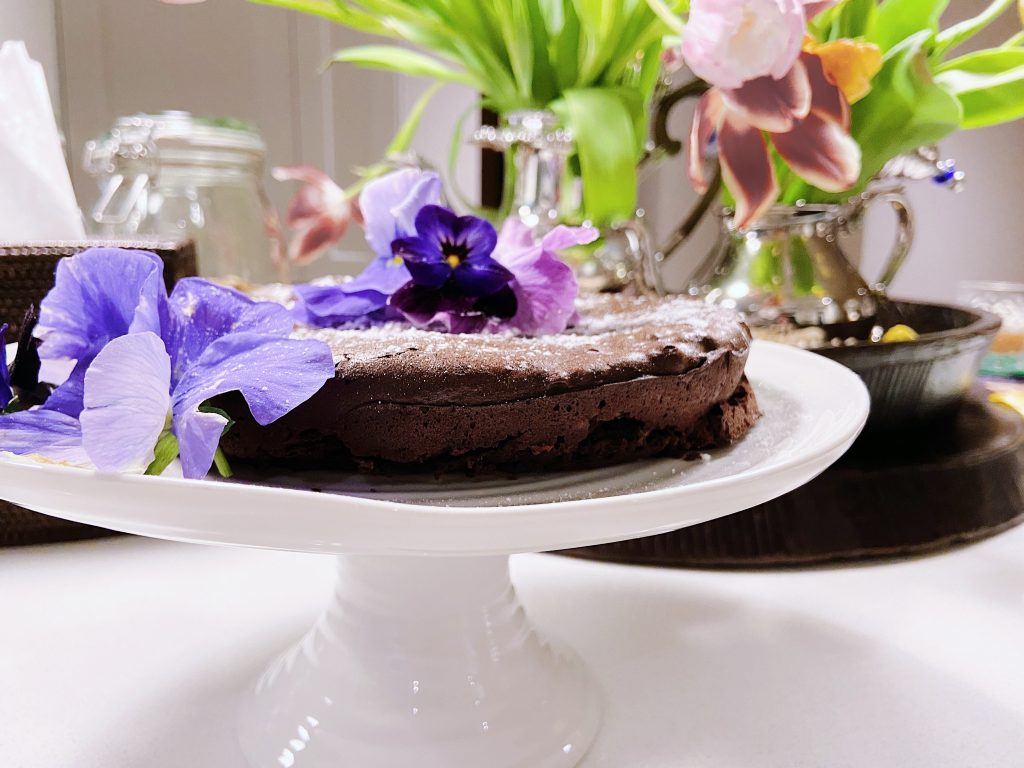 This cake is very rich, dense and indulgent. I like to have mine with a dollop of crème fraîche. It works equally well with thick cream. I also love adding fresh raspberries when they're in season on the side.
Best flourless chocolate cake ever?
Please try it, and let me know if this is the best flourless chocolate cake recipe.