I love coffee. We have a great coffee making Jura machine and I like to try different blends. On a whim, I picked up a Taylors of Harrogate Limited Edition Ingana coffee recently, and it was only when I got home that I read the packaging and saw this coffee was part of a cool initiative.
From what I can surmise, Taylors are funding a project in Uganda from the proceeds of this limited edition single origin coffee to empower women within the community.
The specifics are not clear on their website, so it's difficult to know how effective this scheme is or whether it's just FMCG marketing and branding at its best. We worked with Unilever for many years, so I've got insights into how the marketing machine works.
Their write up is not clear, and I'm not sure whether they're providing these women with sewing machines or trying to educate them. I'm also not sure if there's some sort of tenuous link between 'Taylors' and 'tailoring', which is why sewing machines are involved.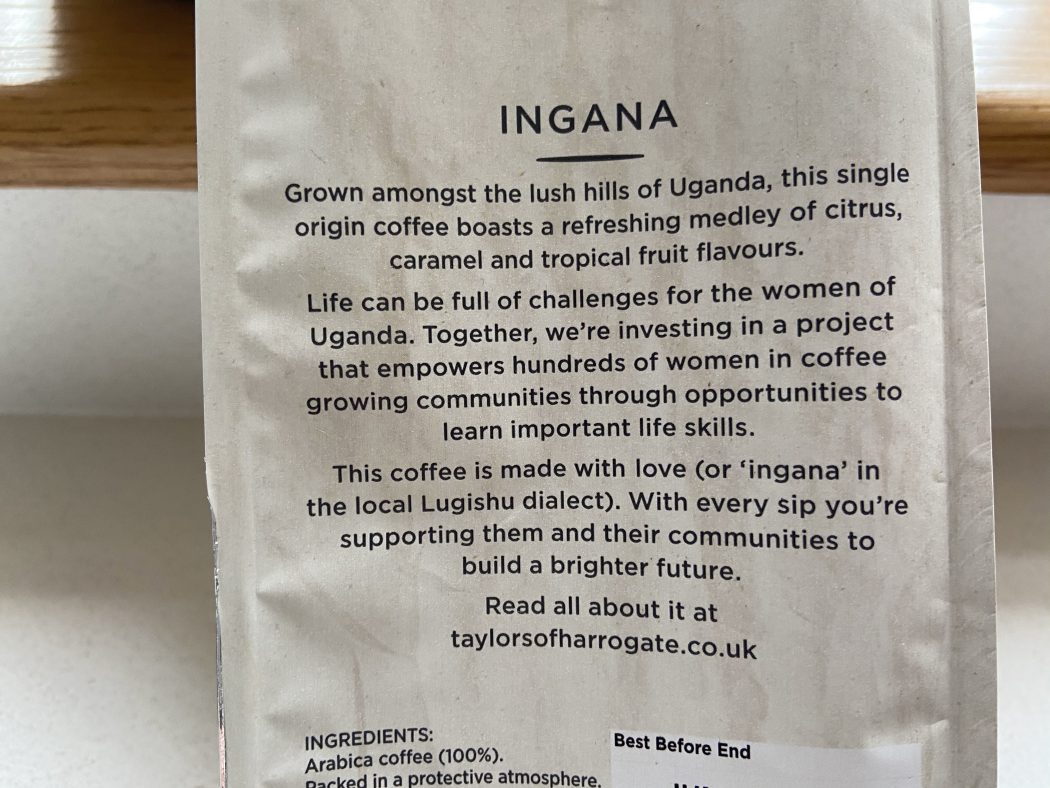 But I'm not going to be cynical and I'll give Taylors the benefit that they're trying to be sustainable and responsible, and looking after the communities where they get their beans from.
Taylors are Fair Trade, carbon neutral certified and part of the Rainforest Alliance, so I'm happy to support them.
Limited Edition Ingana Coffee – verdict
In terms of taste, I've stopped drinking roast 5 coffees. They just taste too burnt for me now and I get far more enjoyment from a good quality roast 3 or 4 coffee. This Ingana limited edition is a 3.
This coffee comes ground, so the first cup I made, I used my usual scoop quantity. The result wasn't great. It was very watery and bland. I doubled the scoop size for my second cup, and that made a huge difference.
It's got a very light, velvety taste, but I find it tame and lacking in flavour. There is a hint of sweetness, but that may be as a result of the tame flavour. I haven't picked up any citrus or caramel tones.
I've had a few lighter roast coffees recently that packed great coffee flavour with tones of caramel that I really like, but this one has missed the mark for me.
I'll finish it, obviously, but won't be buying it again.