For decades, when it's come to household appliances like TVs, washing machines and fridges, we've always purchased either Samsung or LG because their products are well-designed, reliable and competitively priced.
Our previous Samsung fridge-freezer, which was a French style three door, was damaged by the movers when we moved in. The insurance covered the irreparable damage, so we purchased a like-for-like replacement: Samsung's RF23HTEDBSR French Style 3 Door Food Showcase Fridge Freezer.
This was a newer model to the one we had originally so were very excited, and how quickly that excitement turned into an ongoing saga.
Over the course of the first 12 months, we started to see a gradual build up of ice inside the fridge behind the back panel, which was odd, but something we didn't take too seriously at the time.
Then we started to see that ice melting periodically and flooding the pantry drawer at the bottom of the fridge – we're talking about a regular build up of around 1 litre of water, not just a few drops. The timing of this problem was unfortunate because it coincided with the first of the Covid lockdowns.
We called Samsung's customer support and flagged the issue, but they couldn't get technicians out to us because of the lockdowns, which was completely understandable. Weeks became months, the fridge continued to ice up and flood, and we would continue to mop up the water. Not really paying much attention to the months, we went over our two-year warranty period.
With lockdowns lifted, we contacted Samsung again to see if they'd be able to get this matter sorted out. We were informed that the fridge was now out of warranty – this lead to several complaint escalations to supervisors and Samsung finally agreed to get this matter looked at as a warranty repair.
The technician arrived, looked at the fridge, rolled his eyes and sighed. "Another one of these," he muttered. We initially thought it was an odd comment.
When we opened the door to show him how iced over the fridge was and how much melted water there was under the drawer, he said it was ridiculous that Samsung were still selling these fridges because there was a defective manufacturing issue with this style of fridge, and they were called out to numerous homes on a monthly basis to rectify this very fault.
Not surprisingly, he had the full replacement back panel in his van, and after thoroughly de-icing the fridge, which took about 90 minutes using a steamer (there was that much ice), he put in the new back panel and the fridge, touch wood, has been working brilliantly since then. Until a couple of weeks ago when we've encountered the next known issue.
Defective ice maker
We're in the process of refurbishing our utility room (watch this space) and as part of the work we're finally plumbing the fridge in so that we can have cold water and ice.
No problem with the cold water, but the ice box does not make ice. Ironically, the fridge iced up where it shouldn't and can't make ice where it should.
We got back on the phone with Samsung, and they walked us through multiple steps to see if we could diagnose the fault. Nothing we did worked. The long and short of numerous phone calls is that we had to pay for a Samsung engineer to visit the property to diagnose the issue.
Samsung do no have their own engineers on the ground in the UK. Everything goes through private companies that are trained and accredited to carry out repair work.
The reaction of the engineer that arrived was disconcerting. It was a virtual carbon copy of the engineer that replaced our back panel..
"Not surprised the ice box isn't working. It doesn't work on most of the Samsung French style fridge-freezers sold in the UK. Let me guess, it's not making ice and you can't get the ice box out because it's iced up," he said.
He went on tell us that they are called out to scores of repairs a month to address these very same issues on various two-door, French-style Samsung fridge-freezers. As it turns out, this is another known issue related to defective manufacturing. The quote for the replacement parts and labour was in excess of £250.
Naturally, we got onto the phone to Samsung again requesting that this issue is fixed at their expense as this is another known issue related to defective manufacturing.
Samsung had the audacity to tell us that we already had a "free" warranty repair, which is complete and utter rubbish given that the previous work was reported during the warranty period, but we couldn't get it fixed in that timeframe because of Covid.
The Samsung call centre is located in the Philippines and the agents are all friendly and extremely polite. The matter got escalated to the customer support team in the UK, who by contrast were arrogant and had no interest in helping us address the matter, and washed their hands of it.
Remarkably, they agreed with our assessment and that (these are their word) the 3-door fridge-freezers manufactured by Samsung were largely not fit for purpose and haven't been for years, but they have zero interest in getting the fridge repaired despite the known issues.
Despite Samsung knowing that they have hundreds (if not thousands) of defective products in the market, there's nothing you can do to report them. There's no ombudsman and they're not bound by the Consumer Rights Act.
Amazingly, as it turns out, the responsibility lies squarely on the retailer in such instances, and as it transpires under the Consumer Rights Act we have up to six years to get this matter resolved if a product is not fit for purpose or defective, and this appliance definitely falls into that category.
Let's face it, a fridge's main job is to chill – not ice over and flood the fridge. The other feature on our model was the ability to make ice. This too is broken courtesy of a faulty main board and drain channel that needs replacing.
I find it outrageous that companies like Samsung can sell these expensive products knowing that they are defective and that there's no recourse for the consumer.
Pushed from pillar to post
So we contacted our retailer, Appliance City, and the response was predictable. After a lot of backwards and forwards, and getting nowhere under the 'protection' of the Consumer Rights Act, Appliance City said they'd fulfilled their role in accordance with the Act in addressing the defective issues regarding our fridge.
"Under the Consumer Rights Act it is the retailer's responsibility to offer you one of the following resolutions: a refund, partial refund, replacement or a repair (which is not free [and is incurred by the customer]) and which option is offered is down to the retailer's discretion. Under consumer rights we must offer you one of four resolutions which we have done," they explained in an email to us, closing the case in the process.
Naturally, they opted for the repair, which we had to pay for. Surprise, surprise.
So while the system is supposed to protect the consumer, it has created a tidy, vicious circle. The manufacturer is not held responsible for making defective products, and the retailer simply selects the option that absolves them of any financial costs. Why would the retailer opt for a refund when they can simply choose that the customer pays for the repair.
Don't buy a Samsung fridge
Ultimately, we purchased a fridge (for just under £2,000) that is inherently faulty and a simple Google search brings up endless stories of Samsung fridge-freezers that ice up and where ice makers don't work. The earliest one we found was from 2008 – that means Samsung have been manufacturing and selling fridge-freezers that have recurring defects for at least 14 years.
Samsung are aware of these issues and defects, which the UK support team admitted to and did not refute, but they don't care because there's nothing consumers can do to hold them accountable.
Quite remarkably, Samsung's repeated recommendation to us (from the call centre in the Philippines and from the UK team) was that we could get always buy a new Samsung fridge and they'd give us 25% off. What kind of a solution is that? We have a fridge that is a little over three years old, and they think it's acceptable to send it to landfill? Where's the financial and environmental sustainability in that?
So our only solution, if we want a working ice maker, is to pay £250 for a series of replacement parts (the main board and a drain channel) and labour, for something that should just work, but doesn't. It's still a damn sight better than forking out another £1,500 on a new fridge after using Samsung's generous 25% discount.
Quite honestly, this whole situation has been an epic farce, and this experience has seriously dented our faith in Samsung as a company on so many levels and we will probably never buy anything from Samsung again because they are operating unethically and with very little regard for the consumer or the environment.
In summation, if you're reading this and are considering buying a Samsung fridge-freezer, my suggestion is don't take the chance. It's simply not worth the risk or long-term stress given how models don't work as they should.
Updates
September 7, 2022: The saga continues. Exercising our rights under the Consumer Rights Act that were so graciously extended to us by Appliance City, we paid to get the ice maker repaired.
The authorized Samsung repairman arrived and replaced several parts including a new drain channel and main board. He said these were all modified and upgraded parts designed to overcome the flawed defects of the original parts.
Over £200 in parts and labour, the repairman departed. It's been 24 hours since everything's been fixed and we have a grand total of zero ice cubes. The icebox is still empty and still not working. It's a joke that an expensive fridge like this could be so flawed.
The technician can only come in two weeks' time to reinvestigate because they only cover our area once a week.
September 21, 2022: The engineer came back and double checked to see if the replacement parts were working. Everything seemed in order. Perplexed, he decided to replace the actual ice making unit that appeared to be OK as it was the last thing he could think of.
Lo and behold, six hours after he left we had our first ice cubes. Joy. What a luxury. 24 hours later, we had a full ice bucket. Fingers crossed that it will continue to work without problems now. But it is a Samsung fridge, so we're not going to get overly excited.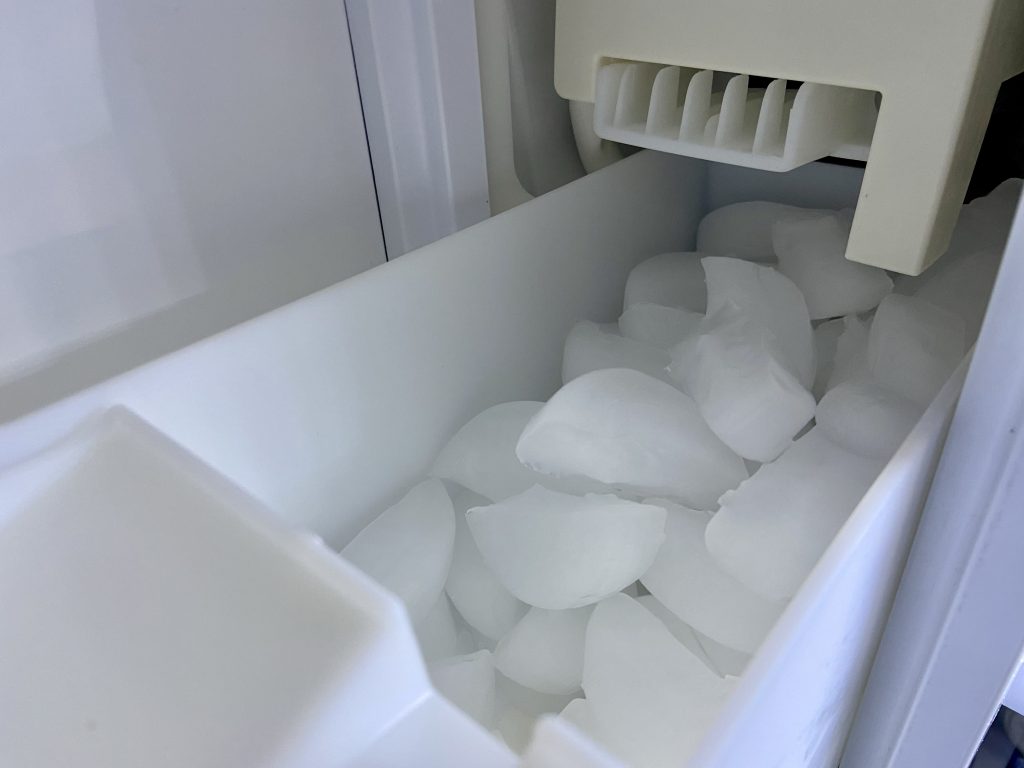 January-February 2023: Over Christmas, when we dispensed ice, we'd get some residual water (not a lot) come out with the ice. We didn't think much of it – by January, more and more water was coming out. In mid-January, we removed the ice bucket, and couldn't believe what we saw. The interior was icing up again, and ice was melting which was causing the water to come out.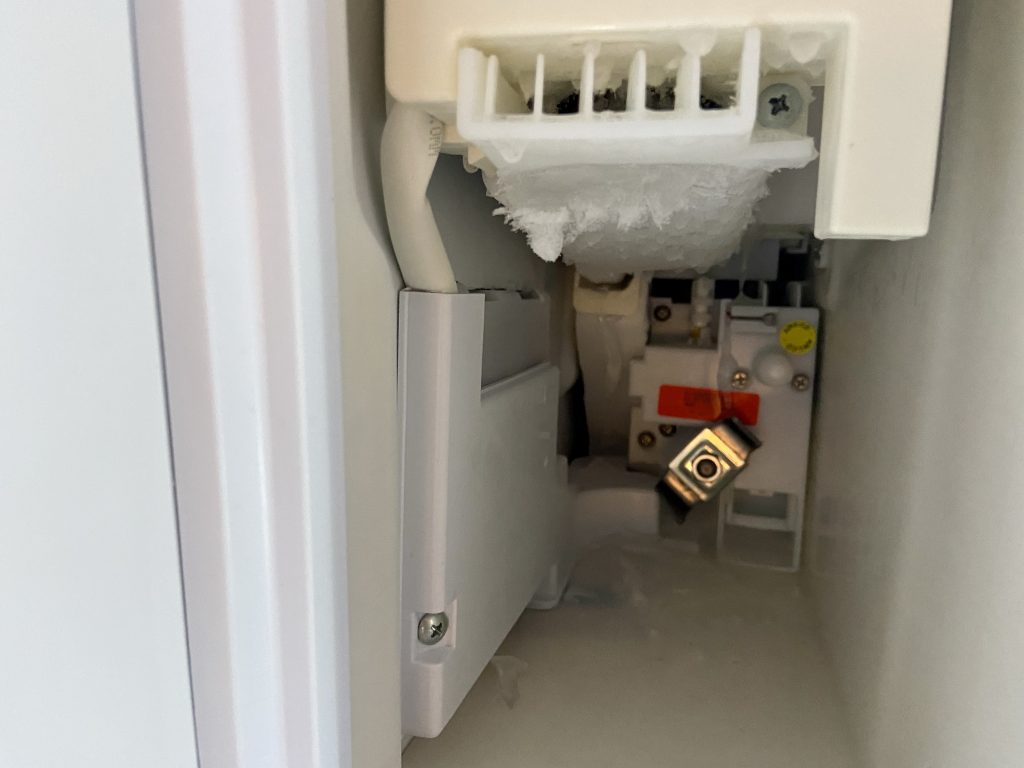 We called Martin Dawes (the agents for our area that carried out the repair) in mid January. We explained the situation and they pulled up our record and said that the work that had been carried out was now out of warranty. "Out of warranty?" I asked – we'd only had the repair completed just over three months ago.
As it turns out, after a somewhat heated conversation, that Samsung only gives a three month warranty on replacement parts and that's the warranty that the agents pass over to us. Three months for replacement parts is simply ridiculous, but that's Samsung's attitude for you in a nutshell – they have an awful product, and they know it. They finally agreed to send the technician out to have a look at no charge, but if any of the parts failed they would be charged for.
The technician defrosted the unit with a steamer in January, and the ice dispenser has continued to work. The technician told me that this is not normal operation and that none of the parts should be frosting over.
By mid-February, all the parts are again starting to ice up, and it seems that steaming and clearing the ice build will have to be a quarterly project. It's laughable.
March 28, 2023: today the fridge wouldn't dispense ice. There was just a grinding noise. We took out the ice bucket and it was completely iced over. It's farcical how awful this unit is. The only way forward is for us to have a monthly job of thawing the ice maker to keep it under control. You'd think we purchased a no-name brand fridge. Really and truly not fit for purpose.