It's taken us two years to get to this point but we need some serious equipment to help us maintain our field as the requirement to use more of it productively grows. We have had to break down the ride-on mower versus lawn tractor conundrum to figure out what's right for us.
As with most things in life, options abound in the ride-on mower and lawn tractor universe. To confuse matters further, companies loosely interchange the lawn tractor and ride-on mower term so there's no industry consistency from a terminology perspective to guide you.
Essentially, there are two different 'types' you can get, irrespective of what they're labeled or referred to by manufacturers: one has the cutting deck located directly underneath the chassis; the other has the cutting deck in front of the machine. Each has its own set of advantages and disadvantages, and the decision centres on requirements, use and terrain.
In our case, we need equipment that can handle a gradient (around 9 degrees) and that can cut around trees. Next year, or the year after, we'll go even further down the field where the gradient gets steeper.
By all accounts, we're looking for a machine where the cutting deck is located underneath the chassis as this has a lower centre of gravity, and theoretically makes it safer to operate on sloping land.
Mowers with the cutting deck located in front are more agile and maneuverable, have tighter turning circles, and can cut underneath things (like hedgerows and furniture like benches), but they sacrifice their centre of gravity and become slightly less suitable for mowing on gradients.
Ride-on mower versus lawn tractor – our options
In total, we've spent days reading about different models and options, and it's easy to rule out less powerful options for us because we need machines with bucketloads of power to get up and down our slope.
Armed with our initial research, we headed down to our local country store where we were able to see most of the models on our final wishlist and to also test drive them.
For starters, we crossed Stihl off our list. We love Stihl as a brand and they make fantastic garden and power tools, but their ride-on mowers, even though they're competitively priced, weren't what we're looking for. It's a machine built for manicured lawns rather than rugged fields.
The Grillo pictured below was never a consideration, but they had one in the showroom, and it looks like a go-kart with a mowing deck. It's a unique design, but not the machine for us.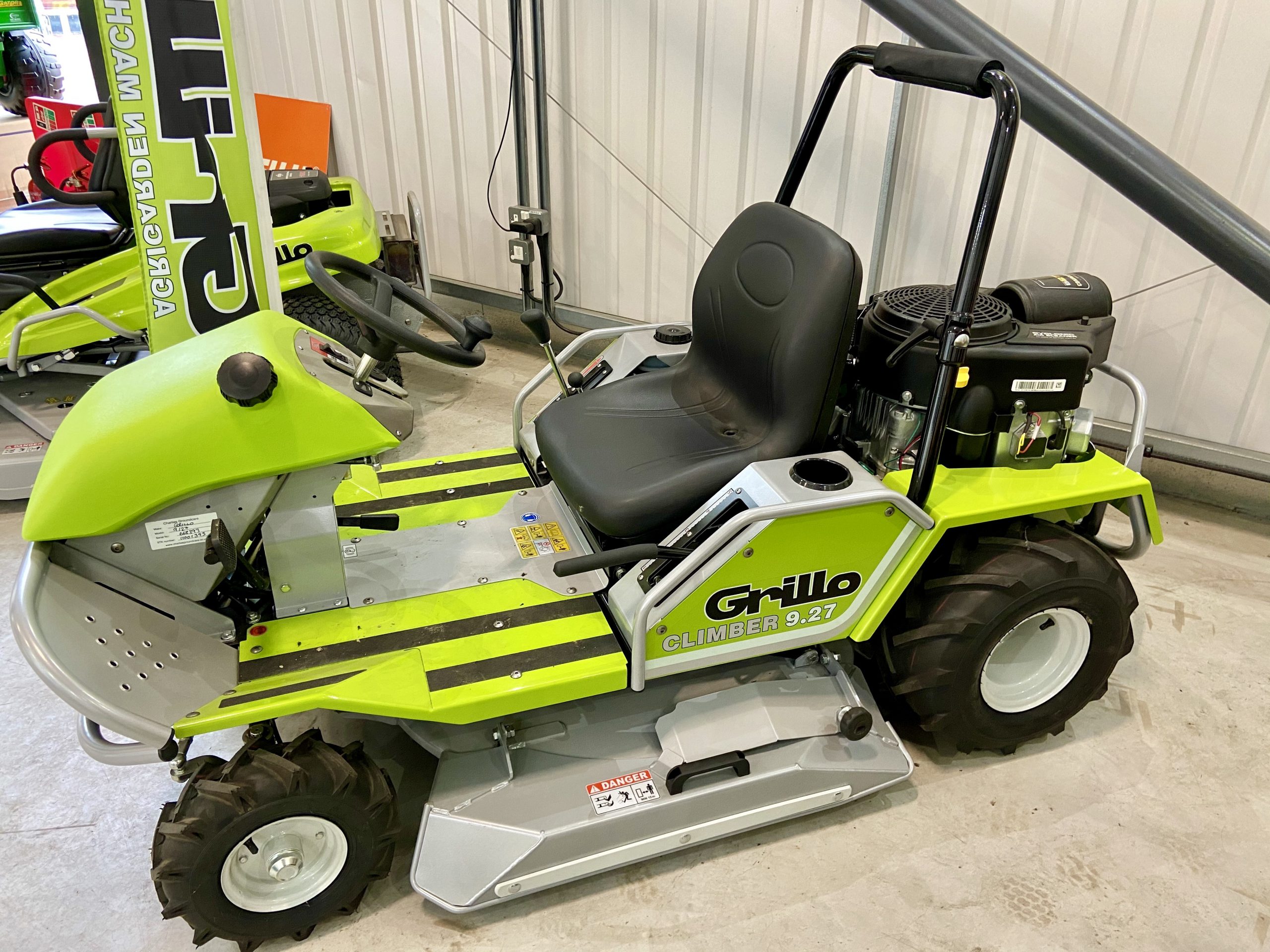 The Stiga professional model was a decent option, but we eventually ruled it out because it lacked the power we needed, and the build quality wasn't as good as other machines we saw. We are, however, still interested in the Stiga 9122 XWSY, and we have contacted their marketing and PR department to see whether we could review and test their machine on our field.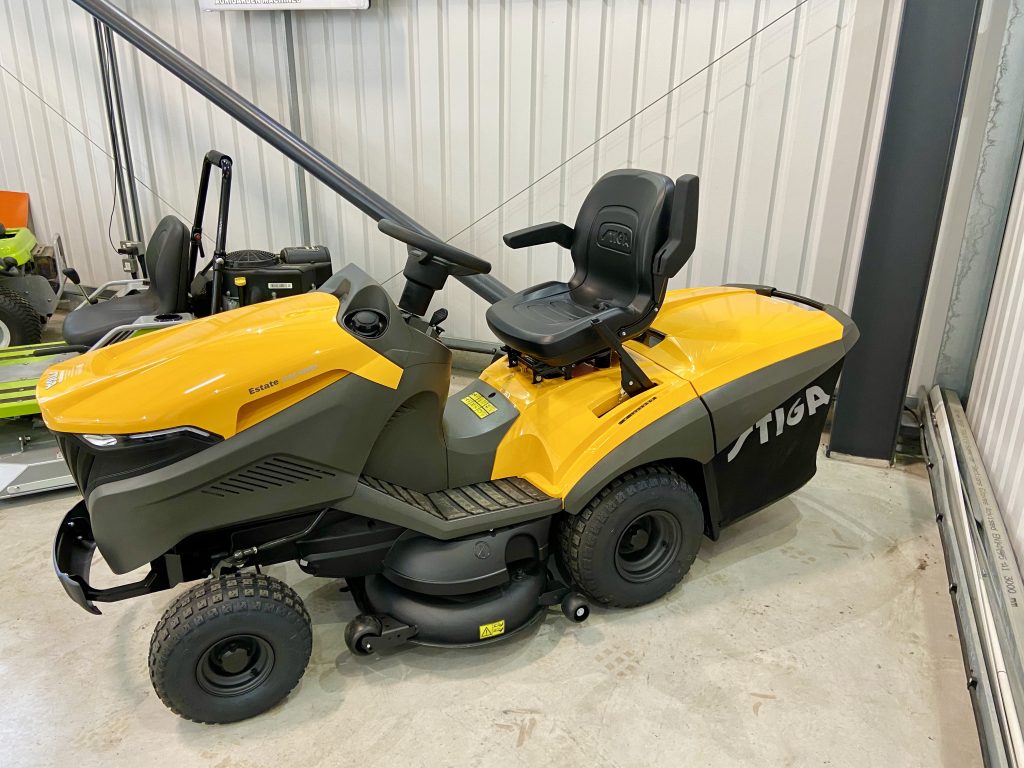 As this stand, this leaves Husqvarna, John Deere and the Stiga mentioned above. The Husqvarnas have front mounted cutting decks; the John Deeres and Stigas are undermounted. The John Deere and Husqvarna are similarly priced with virtually the same power outputs from Kawasaki engines, while the Stiga sports a Honda engine.
The John Deere X590, for our property and terrain, seems to be the better fit on paper. It's not a four-wheel drive. So why the hesitation? Well, we're trying to be sustainable and these are petrol models, and there are no comparable battery-operated models available in the UK at the moment.
We contacted all the major manufacturers, and the few that replied wouldn't commit to revealing when battery-operated models would be available on these shores, despite them having released such models in other markets.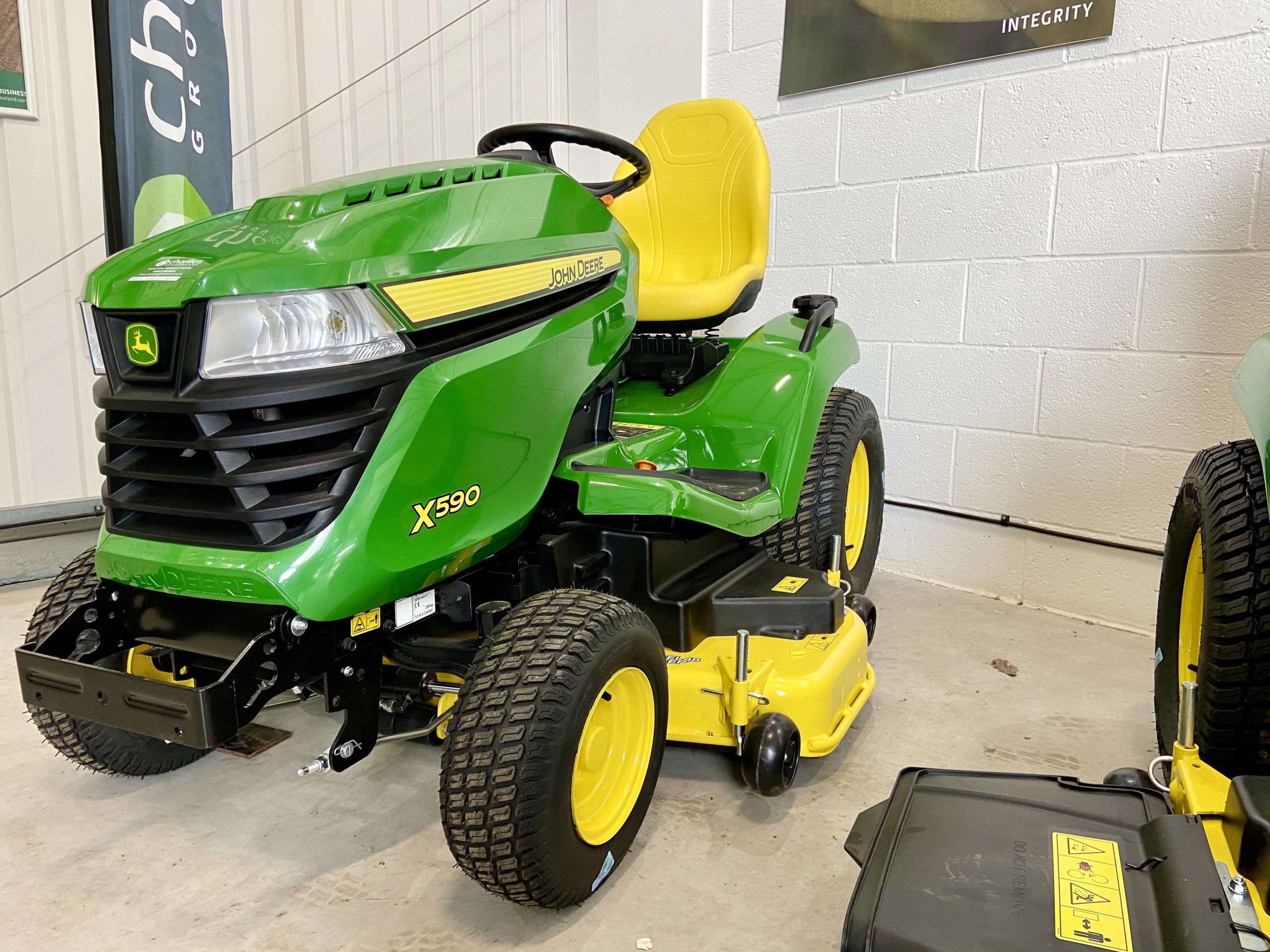 Nevertheless, we took the John Deere out for a spin today, and it's powerful. Very powerful. But it spews a lot of exhaust fumes, and it'll get through about 16 litres of petrol per 90-minute session. That's off-putting for me.
So we have a dilemma. We can't continue to have marathon, exhausting strimmimg sessions maintaining the field, and there's no powerful, good quality, battery-operated machine coming out in the near future, but at the same time I'm not convinced about the petrol powered options from an environmental and sustainable perspective.
Please feel free to weigh in on our ride-on mower versus lawn tractor thoughts by leaving a comment below.