This cake is ridiculously delicious. It has a biscuit type base, with a layer of stone fruit like nectarines and finished with a soft, luscious, spongy top. At this time of year, the supermarkets are filled with nectarines, which don't really taste of much, but this recipe will draw out their flavour and deliver something quite delectable.
In this recipe we've used fresh nectarines, but it'll work just as easily with plums, peaches or strawberries. In fact, I'm looking forward to recreating it this summer using plums and damsons from our orchard. The cake itself has a bit of sweetness to it, and the contrast of the tartness of fruit such as nectarines or plums works extremely well.
From start to finish, this cake will take about 40 minutes to complete, and it has to be made in stages, but the final outcome is very much worth the effort.
Cake Ingredients – Base
150g all-purpose flour – we use flour from Shipton Mill
100g unsalted butter
80g granulated sugar (if you like sweet cakes, increase this 100g)
Pinch of salt
1 large egg
1 tablespoon breadcrumbs
Five nectarines
Cake Ingredients – Topping
3 large eggs
3 tablespoons granulated sugar
3 tablespoons all-purpose flour
Step-by-step instructions
Start by pre-heating the oven to 200C (180C) fan, and line a 21x30cm baking tray with baking paper. Make sure your baking tray is at least 5cm deep.
Mix the sugar and butter together in a bowl using a fork or whisk until nicely combined. Then add the egg and whisk again until fully combined. Add the salt and flour, and mix again until fully combined. You can use a mixer, but I do this all by hand.
You'll notice that the dough is sticky and very soft and it sticks to everything. If it's like this it's just right. Using a spoon or spatula to transfer the dough into the baking dish. Flour your fingers, and then prod and push the dough until it's evenly spread and you have an even layer.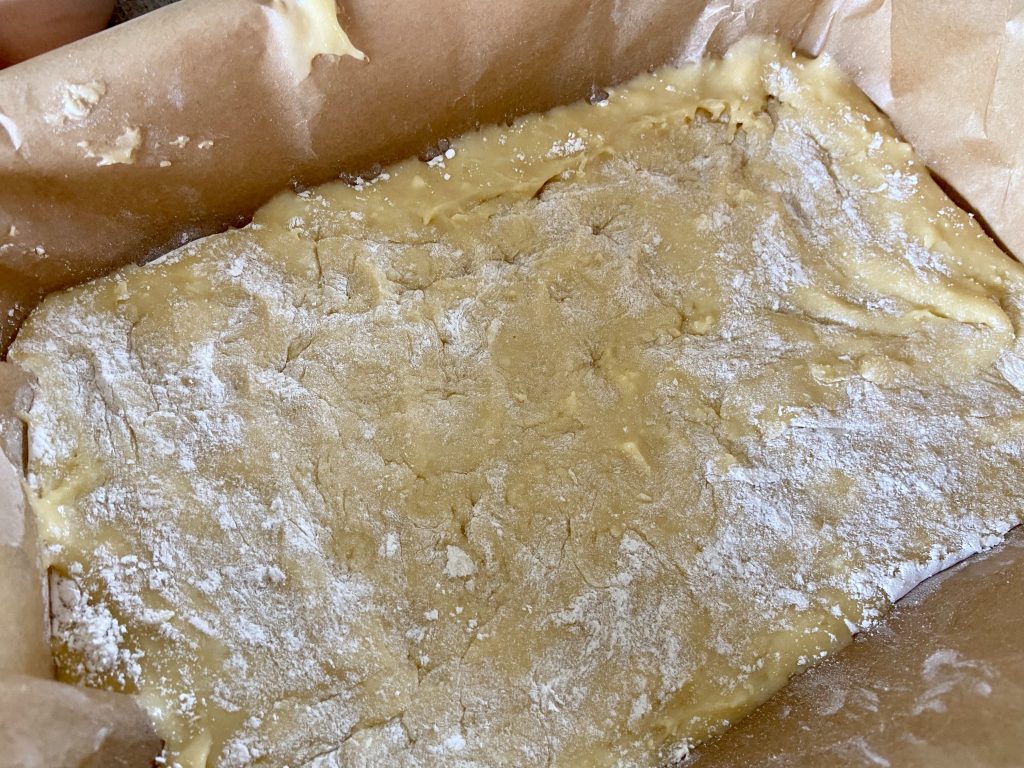 Put it in the oven and bake for 15-18 minutes until it starts to go golden brown. You don't want it it fully booked and it should still be soft (but not runny).
While the base is in the oven, prepare the fruit. I like to cut around the stone so that you have 3-4 chunky segments from each nectarine. Depending on the size of the fruit you may have too much or little depending on the size of your baking tray.
Once the bottom has browned, remove it from the oven and sprinkle some breadcrumbs on the cake – arrange the cut fruit on top of this, sprinkle with a pinch or two of sugar and put it back in the oven for another 10 minutes. You'll know it's ready when the fruit starts to shrivel and brown slightly.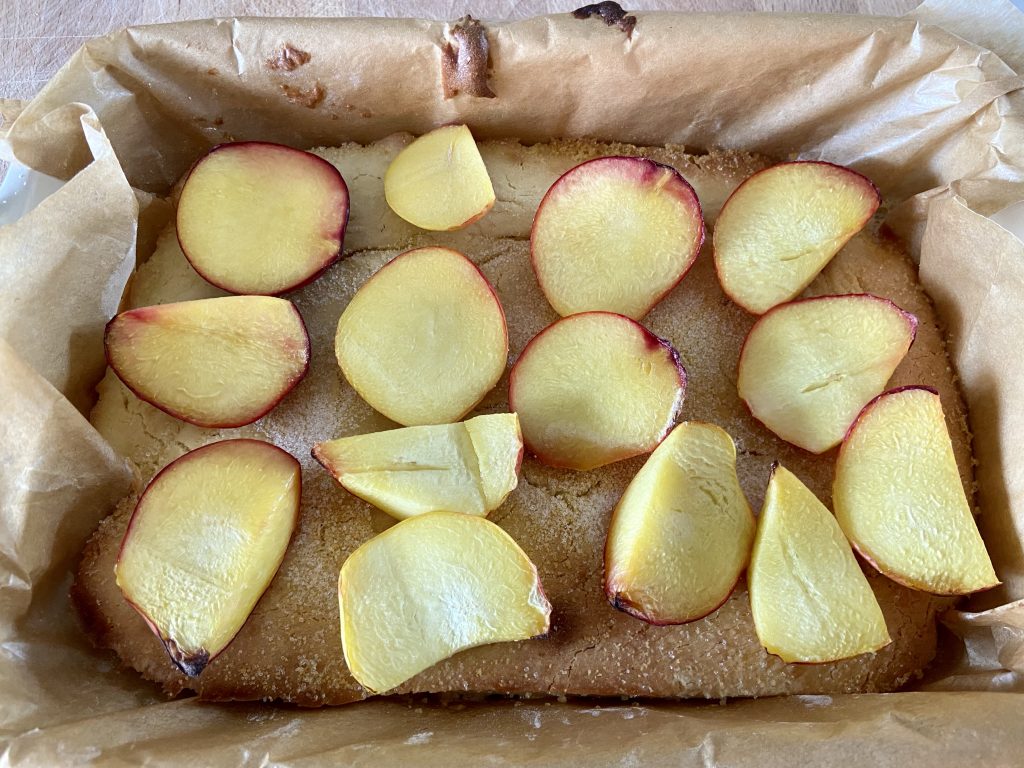 For the topping, separate the eggs. Beat the egg whites until you get stiff peaks. In a separate bowl, beat the yolks with the sugar. Then add the flour. This will be very sticky. Fold the egg whites into the mixture ensuring that it's fully incorporated.
When the 10 minutes on the base with the nectarines is up, evenly pour the mixture over the fruit and base. There should be enough to fully cover the fruit.
Bake for 15 minutes until you get a lovely golden brown colour on the top.
Remove from oven and let it cool for a few minutes. You can help yourself to a slice almost straight away while it's still warm. Cut into squares and store. Enjoy.