I came across this very recent post (January 27, 2020) on the Strutt & Parker rural hub website and was outraged by the lack of insight and research relating to the perception of British farming.
I find it even more disconcerting that it has been emailed as a newsletter to thousands of Strutt & Parker subscribers. I'll give you the opportunity to read this, before I examine the short-fallings.
Key issues as the UK prepares to open trade talks around the world
For farmers, one of the key issues is food standards. The US continues to push for access to the UK markets for chlorine-washed chicken and hormone-treated beef. The US ambassador to the Britain, Woody Johnson, recently said that chlorine-washed chicken "should absolutely be included in a US-UK free trade agreement". It will be fascinating to see what happens. Boris Johnson has assured Ireland that Britain has no plans to dilute food safety standards. Theresa Villiers has said that British negotiators would "hold the line" and that Britain would "not be importing" chlorine-washed chicken or hormone-treated beef, which reaffirms the line taken by Michael Gove two years ago. The issue has also created an unlikely alliance, as the National Farmers' Union has joined with Friends of the Earth (and 58 other organisations) in calling for legislation on maintaining or improving current food standards before trade negotiations start. They argue in a joint letter that all farm produce should be protected by assurances that standards would not be weakened by future trade agreements. The US is also pushing for the same access in mainland Europe for its chicken and beef. The starting gun has been fired!
I appreciate that Strutt & Parker have a rural element to their business and that they deal with farmers, but the above piece is lacking in credibility, information and insight.
For starters, and this is the crux of my issue with this post, is that the UK is no better than the US when it comes to intensive farming and meat production.
Intensive poultry units (IPUs) that are manufacturing hundreds of millions of chickens a month litter the British countryside spewing millions of tonnes of ammonia into the atmosphere.
While UK chickens are not chlorinated (yet) they are produced in exactly the same conditions as American chickens, reared to full maturity in a little over a month. They are pumped with antibiotics and are raised in congested sheds in awful living conditions.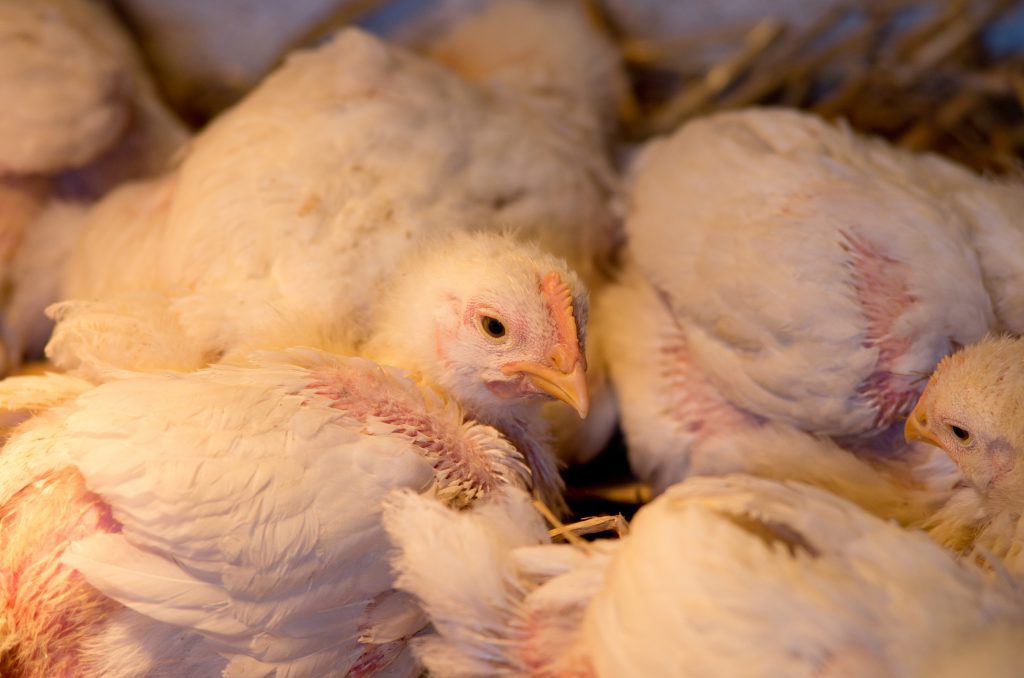 As for intensive beef production practices, well, they have also arrived in the UK as reported by The Guardian. The same applies to pigs, and many other forms of livestock. Animals raised on hormones and antibiotics, on British soil.
As for the NFU (National Farmers' Union) they are directly responsible for the industrialisation of the British countryside. The fact that they've partnered with Friends of Earth is a joke. The impact and devastation of promoting and driving intensive farming forward in the UK under the umbrella of farming diversity is causing irreversible damage to the landscape and environment.
As a result, hundreds of communities across England and Wales are opposing and objecting to planning applications for various intensive meat production farming.
The UK and DEFRA don't want any of that American intensively farmed meat, because they've laid down and approved the plans to let it happen right here in the UK. What DEFRA and the UK should be focused on is the sustainability of meat. But they're not. They're more interested in political standing, much like this article from Strutt & Parker.
Shame on you Strutt & Parker for publishing this unresearched, poorly thought through rubbish.