Because Leopold likes to spend time in the bottom of our field and in long grass we apply a topical flea, tick and mite treatment. For the past two years, we've applied Felisecto Plus to the back of his neck (between his shoulder blades), and applied his latest treatment a few days ago. Within 24 hours the fur where we applied the spot-on started to fall out and revealed mild skin irritation.
We immediately called the vets and they confirmed it was an allergic reaction and that it does occasionally happen to animals. So it appears that Leopoldo's adverse reaction was to one of Felisecto Plus' active ingredients – fipronil and permethrin. As advised by the vet, we wiped the affected area gently with a damp cloth to ensure that any residual chemicals were removed. We're keeping a close eye on Leopold, but thankfully the irritation is subsiding and the area is beginning to heal.
The solution going forward will be to switch Leopold to a different formulation, which the vets are currently looking into.
If your cat is on Felisecto Plus, here are some common side effects to look out for:
Skin irritation at the site of application
Fur loss at the site of application
Increased salivation
Vomiting
Diarrhoea
In our case, Leopold's reaction was fur loss and skin irritation, but the other symptoms are also worth looking out for if your using topical treatments on your cat.
What is Felisecto Plus?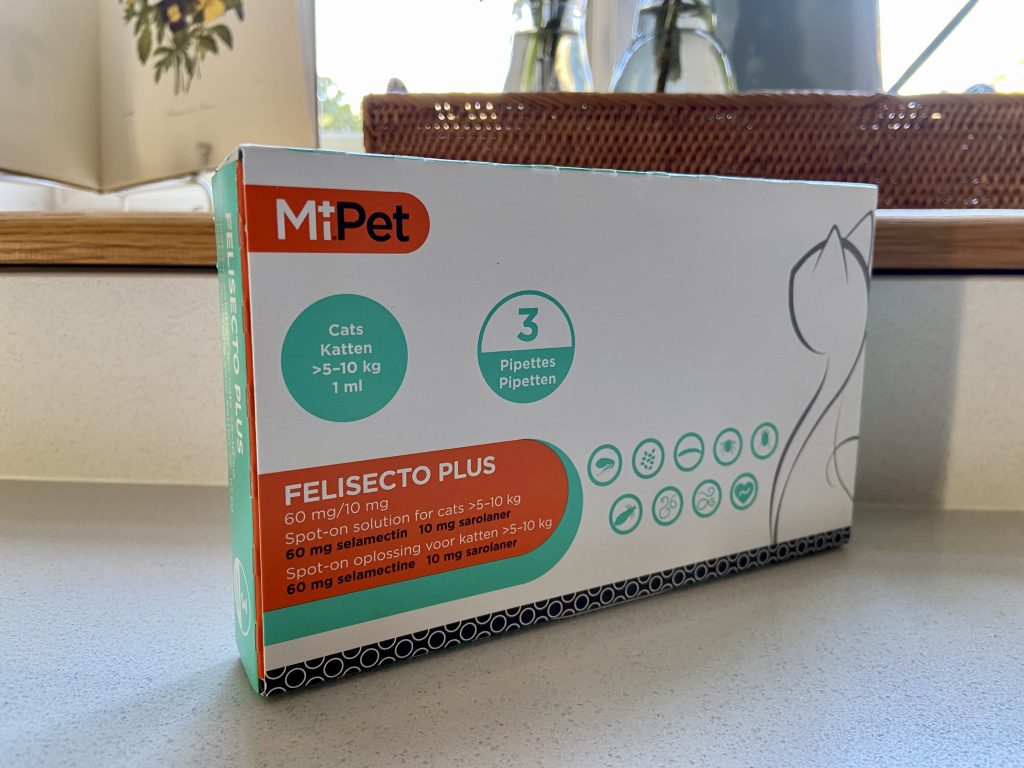 Felisecto Plus is a topical flea and tick treatment for cats that works by killing fleas and ticks on contact. The active ingredients in Felisecto Plus are fipronil and permethrin. Fipronil is a broad-spectrum insecticide that works by disrupting the nervous system of fleas and ticks. Permethrin is a synthetic pyrethroid that acts as a potent insecticide and acaricide, which means it kills both insects and mites.
When applied as directed, Felisecto Plus is absorbed through the skin and spreads throughout the cat's coat. Once the fleas or ticks come into contact with the treated fur, the active ingredients in Felisecto Plus work quickly to kill them. Felisecto Plus also has a residual effect, which means that it continues to be effective for several weeks after application, providing ongoing protection against flea and tick infestations.