Endeavoring to be as sustainable and healthy as possible, I've developed a strong view on using as many natural products as possible. Toothpaste, since you're putting it in your mouth, is very important in this respect and that's why I've decided to post this Kingfisher toothpaste review.
I grew up using Colgate and Aquafresh. When I developed tooth sensitivity, my dentist pushed me onto Sensodyne, which I used for many years.
On a day out to a farm shop in West Sussex six years ago, I saw a brand I'd not seen in the supermarket before: Kingfisher. It was roughly the same price as Sensodyne and I purchased one pack of fennel and one of the mint.
The mint flavour was natural tasting (not overpowering like other toothpaste brands) but I didn't find the tooth brushing experience refreshing. The fennel flavour, however, is incredible, and I've been using it religiously for six years and my oral hygiene has been very good.
What I really like about Kingfisher toothpastes is that they contain no artificial colourings, flavourings, sweeteners or preservatives, and they use real fennel. If you're someone that loves the taste of fennel and aniseed, you'll probably adore the taste of the toothpaste.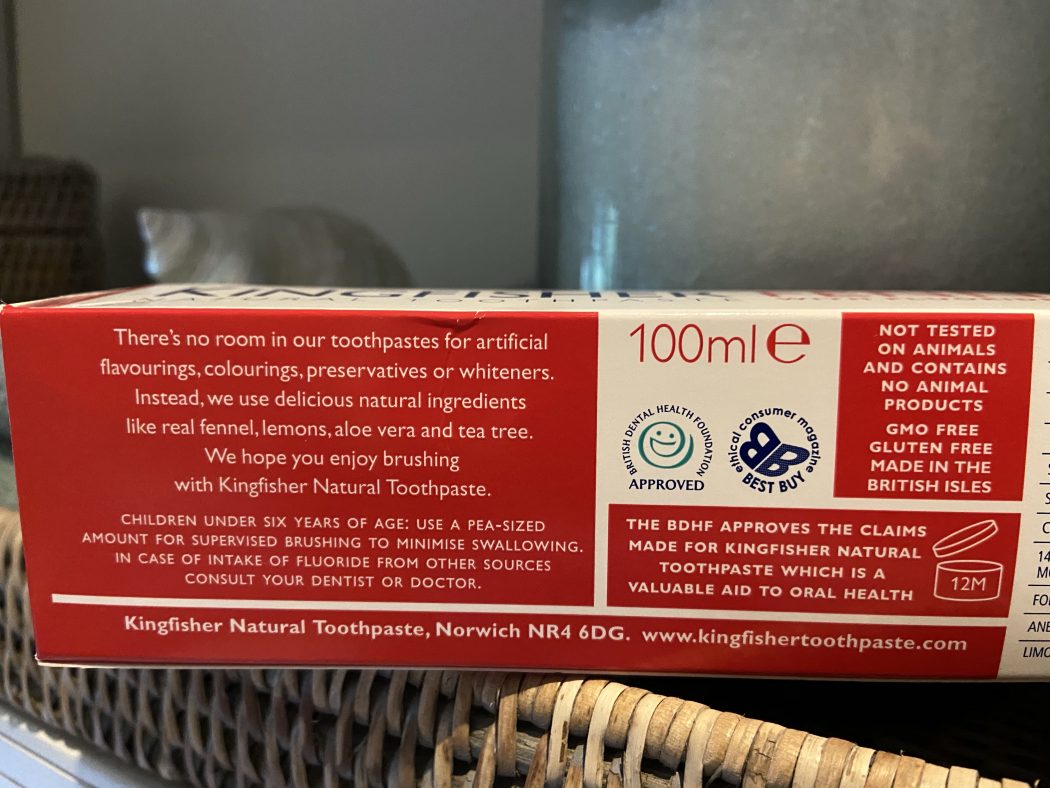 Other than the taste, the clincher for me with this toothpaste is that it's gentle. As mentioned, I've only used the fennel flavour (with fluoride) for six years and my teeth are no longer sensitive. I'm not saying that this toothpaste will cure sensitivity, but because of it's gentle formula it's been effective for me.
When you rinse your mouth after brushing your teeth with Colgate, Aquafresh and even Sensodyne, it doesn't matter how much you rinse, you can't get rid of that toothpaste taste. It can linger for hours and it sometimes feels like you've cauterised the inside of your mouth.
With Kingfisher, however, two rinses gets rid of the toothpaste and you're left with a gentle fennel aftertaste that completely dissipates after 10 minutes, leaving you with a clean, refreshed taste in your mouth.
Kingfisher also do an aloe vera flavour and whitening charcoal option. I've not tried these yet, because the fennel has just been such a winner for me, but I will try them this year and let you know what I think.
What I also really like about their branding and packaging is that as part of their ingredients list they tell you the source of the ingredient as well as its purpose. I wish more companies would do this.
| INGREDIENT | SOURCE | FUNCTION |
| --- | --- | --- |
| calcium carbonate | chalk | gentle abrasive |
| glycerin | vegetable | moisture retention |
| aqua | purified water | moisture |
| sodium lauroyl sarcosinate | palm oil | dispersant |
| hydrated silica | natural ore | structuring agent |
| cellulose gum | plant fibre | thickener |
| sodium monofluorophosphate | calcium fluoride | helps prevent tooth decay |
| foeniculum vulgare | fennel | fresh taste |
| anethole | fennel | fresh taste |
| limonene | fennel | fresh taste |
What is unclear is how much fluoride is in each tube. I contacted Kingfisher and they've confirmed it's 1450 parts per million; the same amount as other mainstream toothpaste brands,
I cannot speak highly enough of Kingfisher toothpaste. If you've not tried it before, I certainly recommend you give it a go. Admittedly, it's not easy to find and buy. I've seen it in Waitrose and Holland & Barrett before, but none of the major supermarkets seem to stock it. Kingfisher also sell directly off their website, but the shipping is a tad expensive. I now buy it online and you can get some good 3-pack deals on Amazon and eBay with free shipping.
The next time you see it in the shop, and you've been interested in a natural toothpaste, I certainly recommend trying it.
Tooth decay
After a recent visit to the dentist I was told I need to increase my fluoride intake because my teeth are susceptible to acid attacks and tooth decay.
Every time you have sugary food and drink, the bacteria in plaque produce acid that attacks teeth. In my case, I snack throughout the day on fruit such as apples, tangerines and grapes, which, as it turns out, is not ideal.
I've now altered my snacking habit by limiting fruit and raisins, and opting for savory alternatives to prevent potential tooth decay.
In conjunction with this, my dentist prescribed me an extortionately priced rich-in-fluoride toothpaste from Colgate to prevent potential tooth decay. Most toothpastes (Kingfisher included) fall in the 1350-1500 parts per million range. Colgate Duraphat is 5000 parts per million. It's also got a laundry list of various Es headlined by our big, bad friend sodium benzoate.