We have finished repainting the living room, a project we undertook on wet and rainy days this summer when work outdoors wasn't possible. The previous owners were terrible painters and the walls, upon close inspection, were patchy, so it was good to get this room done.
We repainted the entire living room, walls, beams and ceilings, and it looks much lighter, cleaner and neater. For us, the key to painting is having the right equipment and a good quality paint.
We used an assortment of rollers from Harris to achieve the final outcome. We really like Harris products because they're reasonably priced, are good quality and last a long time.
We used round brushes from Diall to get into all the crevices and tight spaces between the beams and ceiling, and then different sized rollers to paint the underside of beams, the ceiling and main walls.
I'll be honest. Painting the beams and the ceiling was tedious. Walls are an absolute breeze by comparison. Even when standing on a ladder, you're constantly having to look up, and my neck would begin to ache and pull after lengthy sessions.
This experience made something else a lot clearer to me. Michelangelo was not being cool or trendy by lying on his back to paint the ceiling of the Sistine Chapel. I think he was being practical and did what he had to do to avoid looking up and experiencing neck pain for years.
Relatively speaking, repainting the living room was a sizeable project in the end because of the ceiling and numerous beams, but we're glad it's done; it looks refreshed and the horribly patchy paint job we inherited is gone.
On the subject of paint, since moving in, we've come Dulux Professional paint converts. Their products are thick, easy to apply, and go an incredibly long way. We've now repainted about three-quarters of our house since moving in and can't speak highly enough about their paints.
For the colour, we had the Dulux centre colour match the paint to Farrow & Ball's Wimbourne White.
Before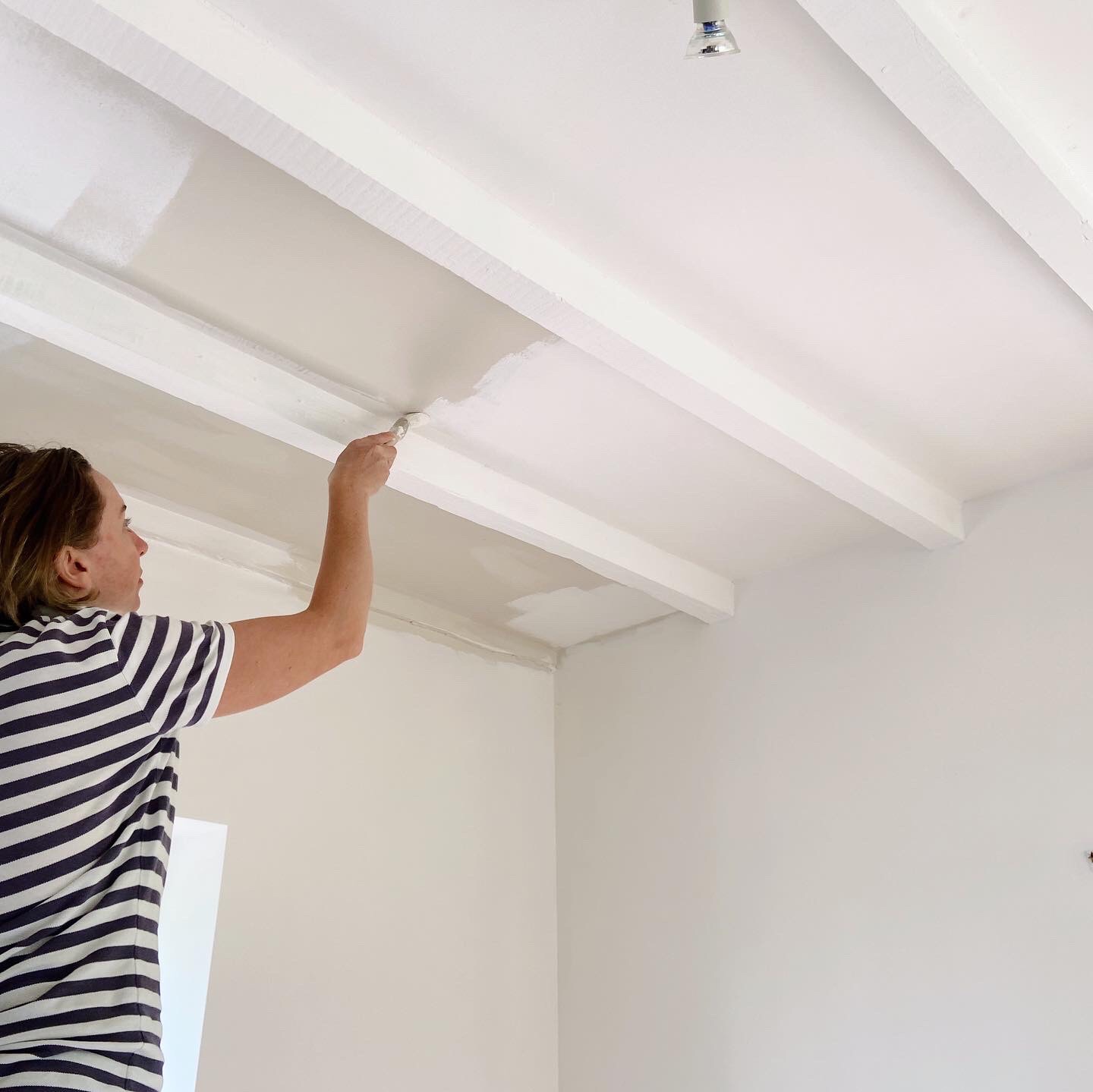 After