I have been taking vitamins and supplements for years. Despite eating a well-balanced, nutritious diet, I have always been a firm believer that there's no harm to boost your health with vitamins provided that you're using the right product in the right dosage.
Last month, I started taking vitamins from a company called Feel. They have positioned themselves as a company that is trying to deliver clean, high-quality vitamins that contain no nasty ingredients, while removing the risk of overdosing on minerals and fat-soluble vitamins by providing moderate levels in each capsule. I have started by taking the Multivitamin and Feel Focus, both of which can be taken at the same time in combination with one another.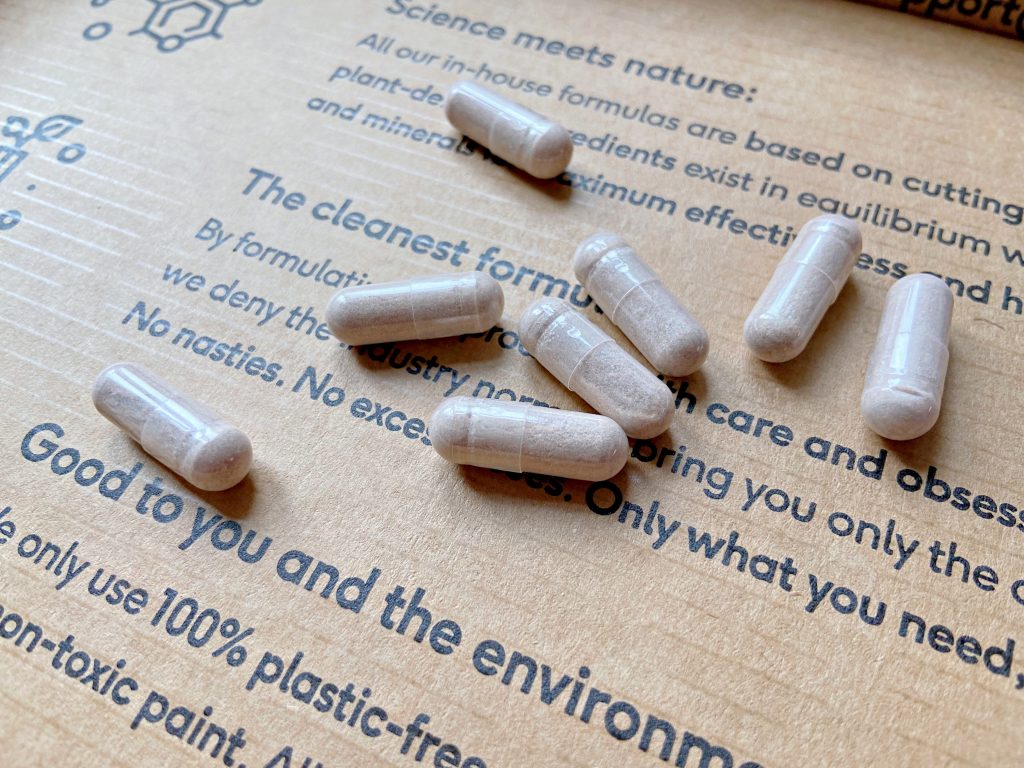 Feel Multivitamin
The multivitamin consists of 32 ingredients and you get 60 capsules (30 servings) in each pack. The capsules are free from silicon dioxide, glycerin and titanium dioxide, and they're 100% vegan and gluten-free. What I also really like about them is that are no Es or genetically modified ingredients that go into their tablets. To tick a few more boxes they're also cruelty-free, halal and kosher.
From a sustainability perspective, when you order the multivitamins they arrive in a flat cardboard box that fits through a letterbox. The multivitamin capsules are in a waxy paper, resealable pouch that is 100% plastic free.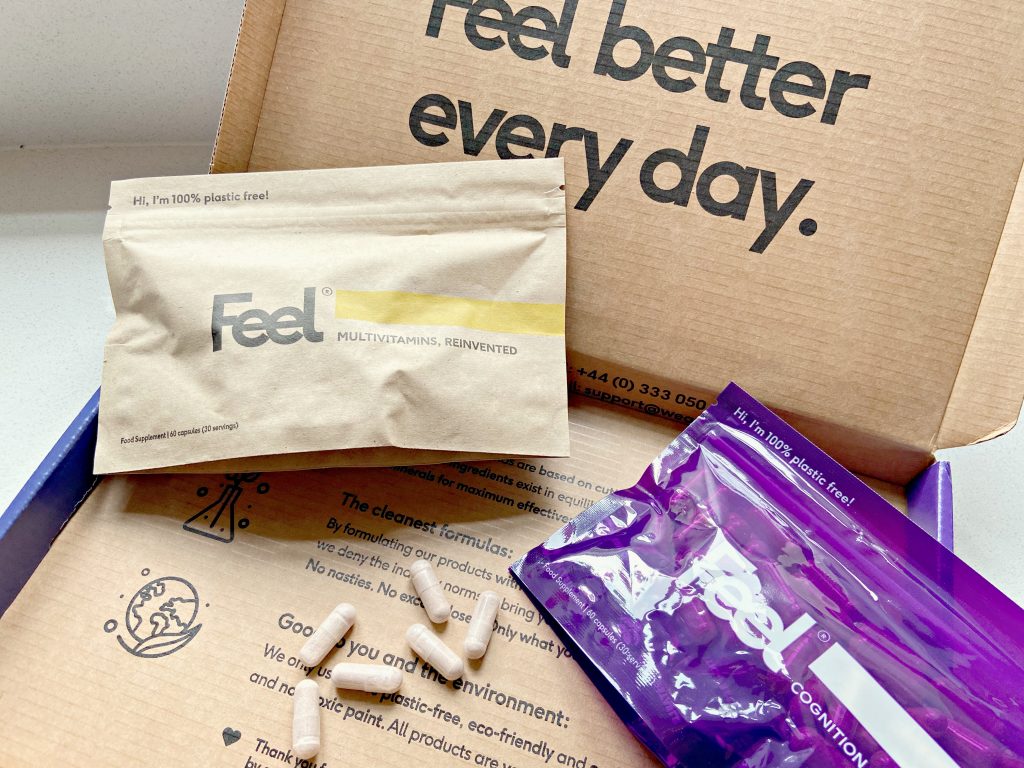 According to their website, Feel's multivitamin has been designed to improve your hair, skin, nails, eyes, digestion and overall immunity, while also improving the quality of your sleep.
The key to taking supplements is consistency and I took the tablets with a glass of water each day after I had my breakfast. The capsules are quite large, but were easy enough to swallow with some water. Because I had no issues swallowing the tablets, I never actually 'tasted' them.
So how did they work? In all honesty, I didn't notice any significant effects from the tablets, but there were days where I had more energy than on others, but I don't know if they could be directly attributed to the tablets. I have noticed that my nails have become stronger. In my opinion, the key to multivitamins is that there shouldn't be a perceptible difference and that they bolster your immune system. That seems to be the case with this multivitamin.
In terms of price, if you subscribe to receiving the tablets on a monthly basis, it'll cost you £14.45 per month which is reasonable value for money for a high quality multivitamin that doesn't contain any nasty ingredients.
Feel Focus
The other tablet I took was Focus, which is designed to improve cognition and assist brain function. From time to time, I take brain supplements because they help me with mental fatigue and concentration. As with the multivitamin, this capsule features high-quality ingredients and has been inspired by Ayurvedic medicine.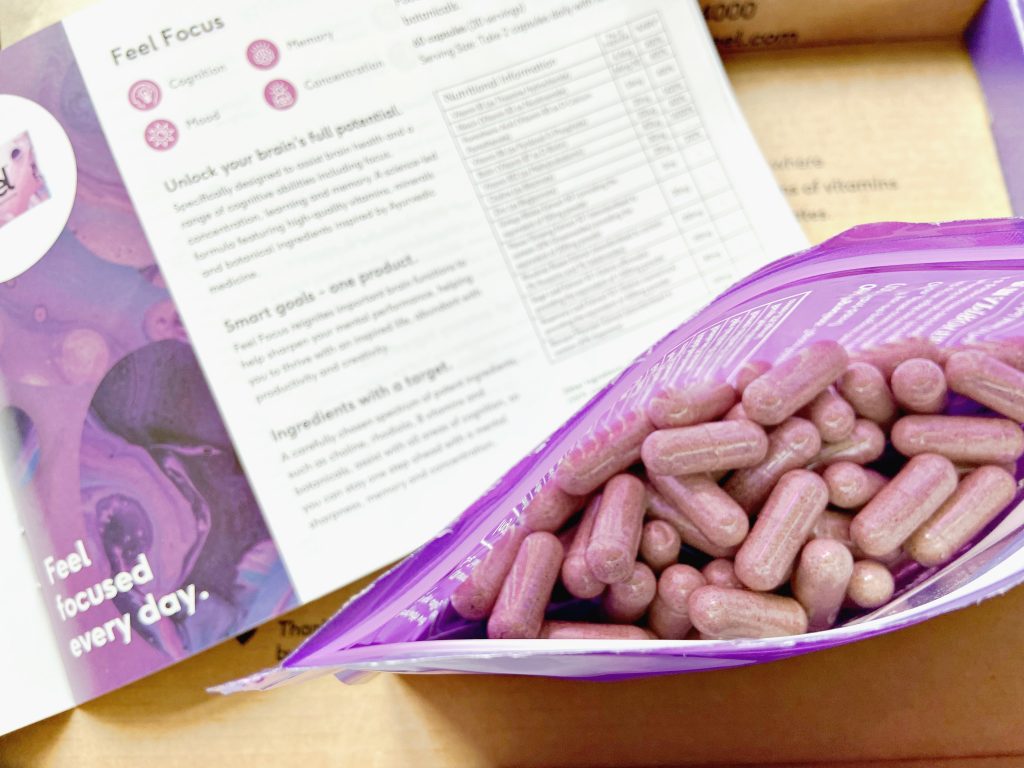 From previous experience, I've always found that gingko biloba and ginseng have had a positive impact on my mental function, and this capsule contains both ingredients along with rhodiola, choline, an assortment of B vitamins, sage leaf, rosemary and bacopa monnieri extracts.
Once again there are no nasty ingredients or additives and the capsule shell is made from tapioca, which is 100% plant based.
Did it work? Yes. It was more effective on some days than others, and it definitely helps you feel more focussed and mentally switched on. Feel also say that it will help people that are afflicted with brain fog, poor memory, anxiety or lack of concentration.
I will continue to use the Focus supplement and see if the results become consistent on a daily basis, and Feel actually recommend taking their products for about three months to allow your body to adjust and for you to experience the full benefits.
On a monthly subscription, Feel's Focus tablets will set you back £16.16 per month.
Final thoughts
The whole point of taking vitamins and supplements is to improve your overall health and well-being, and Feel have taken that ethos to the next level by trying to provide a product that has no ingredients that may be detrimental to our health. The fact that there are no Es, additives, fillers, bulking agents or colourants is a massive plus point, and kudos to them for also not using genetically modified ingredients.
If you're looking for a good quality vitamin, I'd certainly recommend you check out what Feel have to offer.
Kirsten has also been taking some of Feel's other vitamins and she'll be sharing her experiences and results.
If you'd like to try some of Feel's products, you can use the code PARTNER10 at checkout to get 10% off your subscription order.