Ever since moving in we've had varying degrees of WiFi issues, which has left me pulling my hair out at times. We tried a lot of different things, and I'm thrilled to say that we finally have a robust, working WiFi solution thanks to the Deco M9 Plus* that has modernised our Victorian farmhouse and that will allow us to take our smart home development to the next level.
In order to get the desired results, we got creative and merged two products from TP-Link, the Deco M9 Plus and PowerLine AV600, to bring solid WiFi coverage to the entire property, and it's been hugely successful.
The biggest issue we faced was the double brick wall that separated the northern portion of the house (where our office and TV room is) from the main house where the router and hub is located. We've detailed all of this in the video below.
The Deco M9 Plus is a terrific mesh system, and I cannot reiterate just how stable our Internet and WiFi is now. We can now go from one end of the house to the other, using a WiFi connected device and not lose connection.
We've also eradicated all our dead zones throughout the property, which means we have WiFi access everywhere, and that's a big deal for us as we continue to transition our Victorian farm house into a smart home.
Now even our Salus smart thermostats in the TV room maintain their WiFi connection (it used to be very patchy) which means that this winter there won't be any days when we go to watch TV and the heating hasn't come on.
In addition to this, the mobile phone and tablet app gives us detailed information about our system. It's easy to determine how many devices are connected to which Deco unit and how much bandwidth they're consuming. Having such oversight has been amazing and incredibly helpful.
It's also interesting to see how different Deco units take on the responsibility of lessening bandwidth load and overload. For example, in the evenings when I'm using the iPad in bed, and I monitor the Deco app, I can see that the iPad jumps from one Deco unit to another to optimise the connection. It's extremely well designed and put together as a system.
The mesh system also runs Trend Micro's antivirus that protects your devices from malicious content and vulnerabilities while connected to the smart hub, which gives you added peace of mind.
You even get access to a monthly report to see how many devices have been connected on a daily basis along with blocked attacks against them – 25 so far this month. Crazy. It's really cool to have access to this kind of information.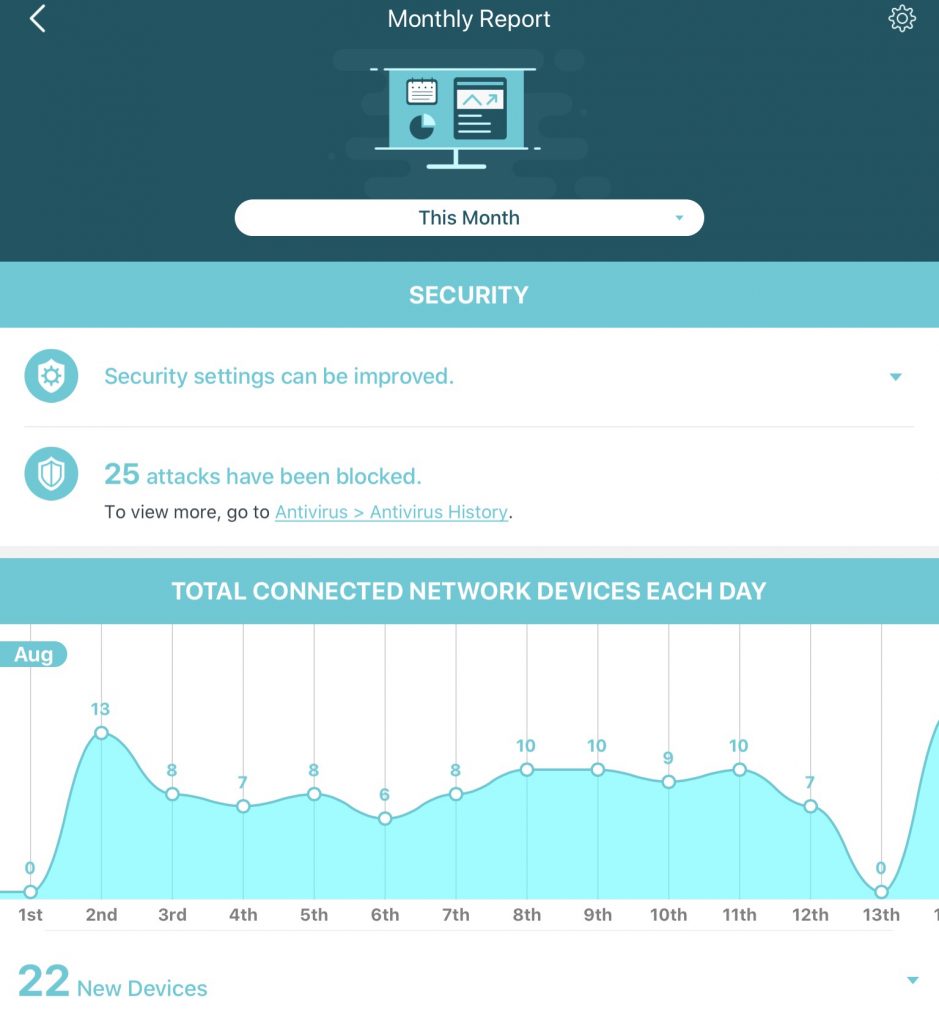 There's nothing we can fault about the Deco M9 Plus. It has provided us with robust, fast and efficient WiFi coverage across our entire property and we can now download, upload, copy and stream across all our devices with no discernible performance drop.
We also really like the physical design. The units are slick, simple and stylish and have blended right into our period property and decor.
Deco M9 Plus verdict
If you have a property that suffers from dead zones or where you've tried to prop up poor WiFi signal with boosters that have proved inefficient and patchy, you should seriously consider the Deco M9 Plus, because it's a top performer and it's taken our WiFi network to a whole new level.