From our experience, we've decided to avoid a tiled and grouted finish in our master shower after the gutting the old one. Tiles and grouting require a fair amount of cleaning and maintenance, so we've been looking at shower panels as an alternative.
We visited multiple showrooms and after spending more time online researching different brands, we requested samples from Versital, IPSL, Shower Wall, Minerva, Rearo (Selkie), Multipanel and Bushboard (Nuance).
As with floor samples, shower panels look different in situ and it's critical that you get samples to make these important stylistic and colour decisions.
Versital
The professionalism and quality of the Versital product is extremely high, but it is also very expensive. We really liked the quality of their samples (which arrived in a velvet pouch) and the product is very high quality, but we weren't convinced that the price point reflected the finished product and its intended use.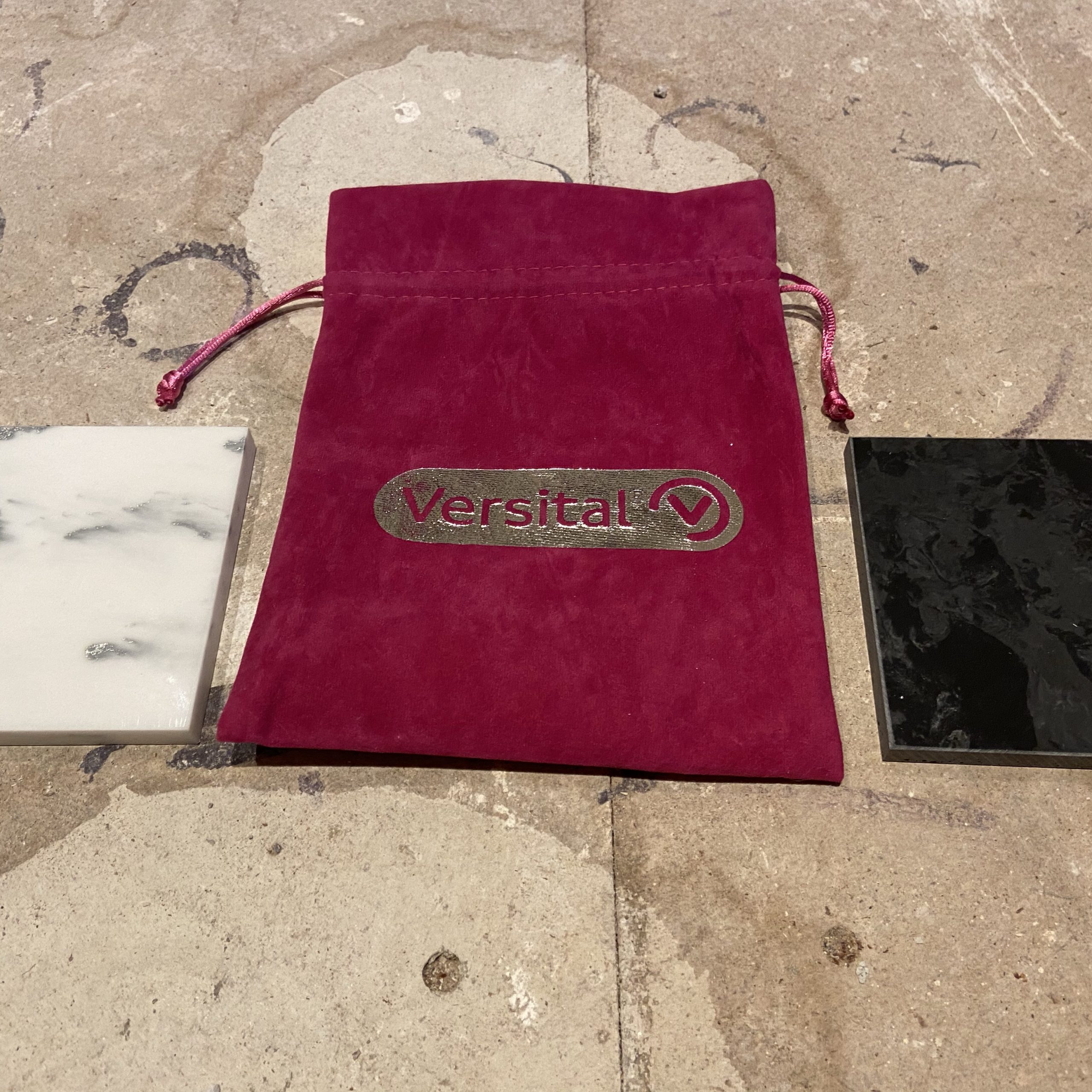 Shower Wall
The Shower Wall product was available in many showrooms, but we were very unimpressed with their samples when they arrived. They looked like they were poorly digitally printed and came across as extremely cheap. It really harms a brand when the samples don't even try to sell the product. This range was easily ruled out.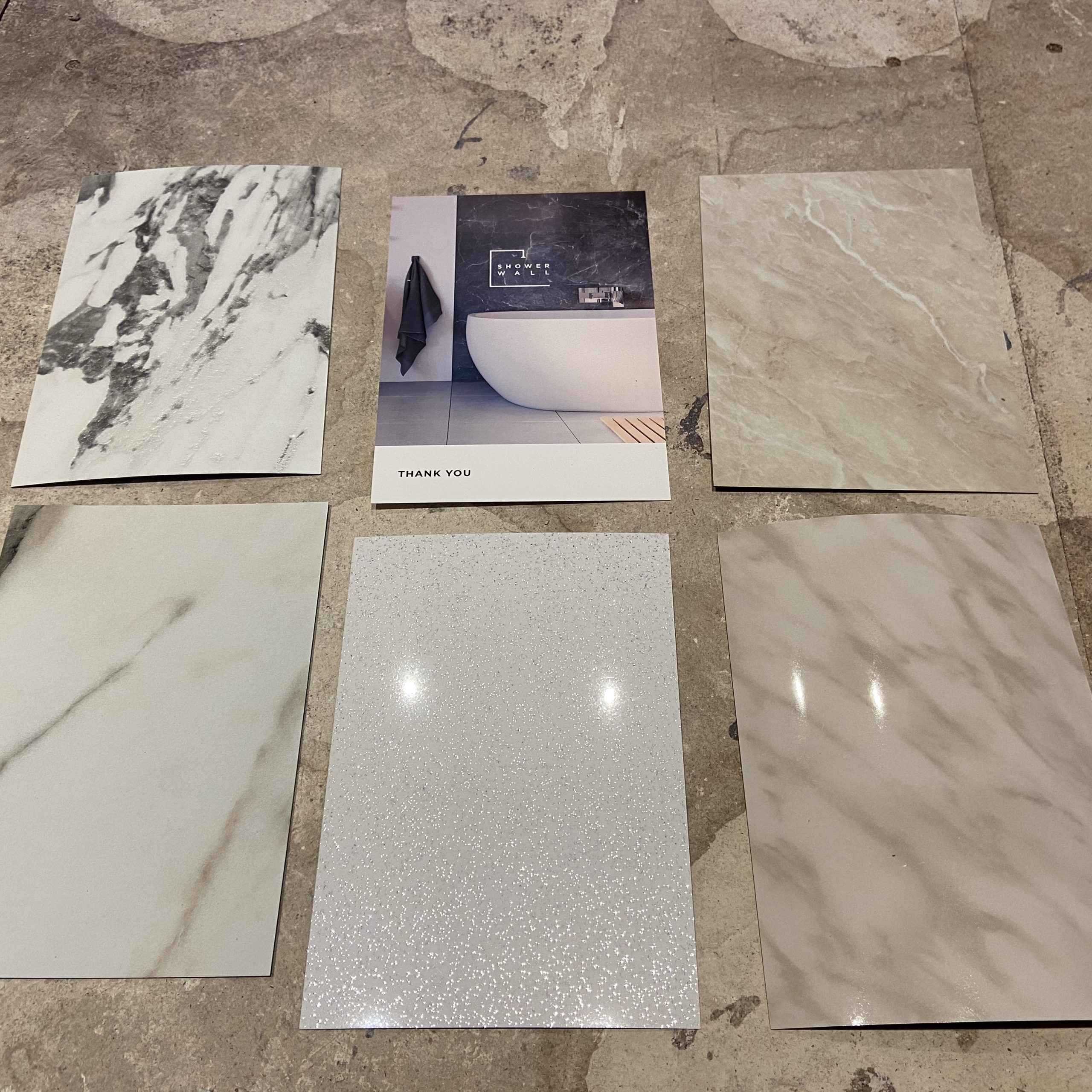 Aquabord from IPSL
This one was a surprise. We only requested a few options from IPSL but the sample colours were really good. Too often the Carrara marble options from manufacturers (and there are a lot of them around) are cold in appearance as they utilise blueish undertones. The sample from IPSL was neutral in that regard and very much in line with the colour tones we're after for our bathroom.
A strong contender until we saw a plastic shower wall in a showroom. It looks good, but when you tap them, you can hear it's hollow and plastic. Looks like it may have to be ruled out on those grounds.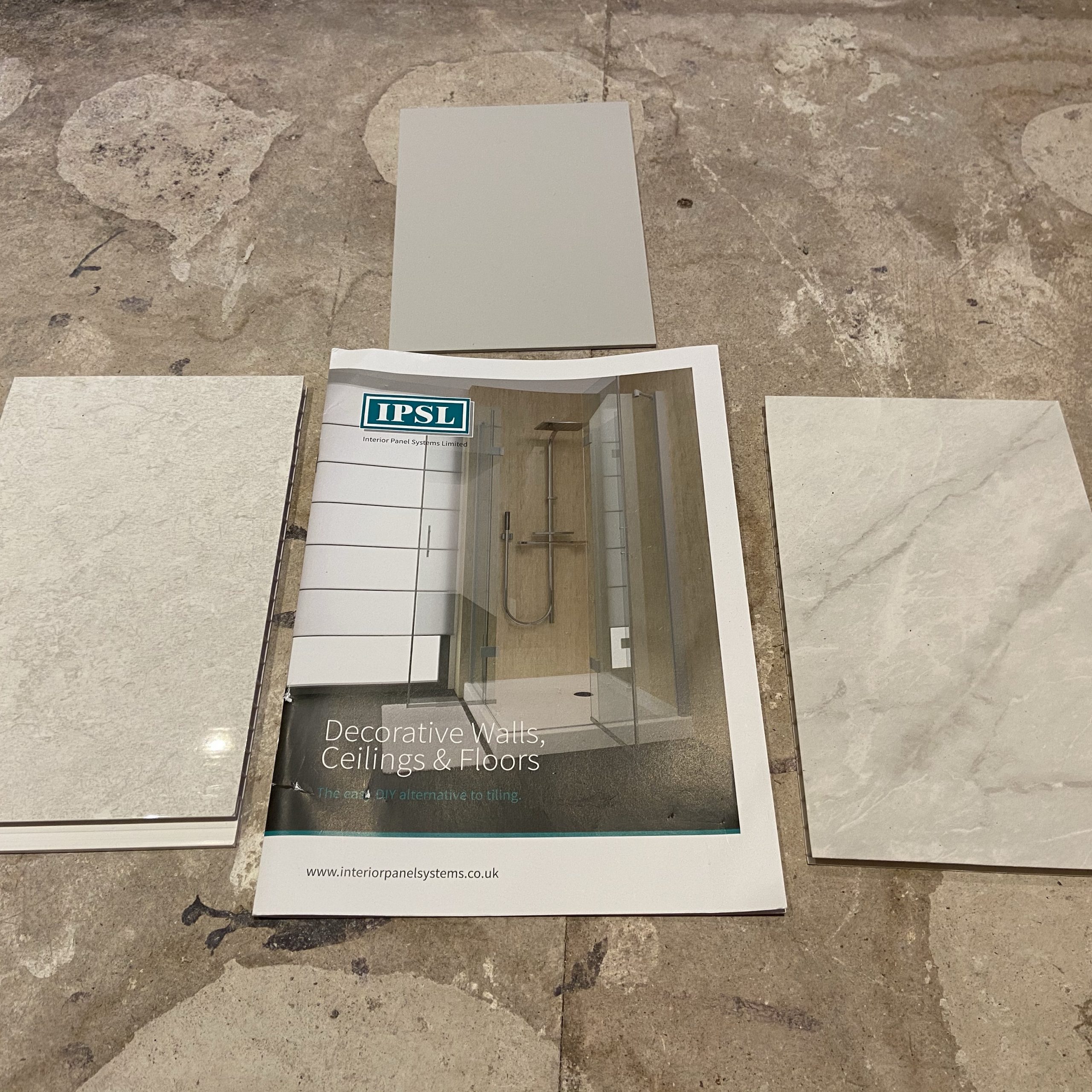 Selkie from Rearo
This is another popular offering in showrooms and on online interior and decorating websites. The samples we received were very small, making it difficult to get an idea of what they would look like. In addition to this, the Carrara marble had a noticeable blue hue, making it cold in appearance once again. We've had to rule these panels out too.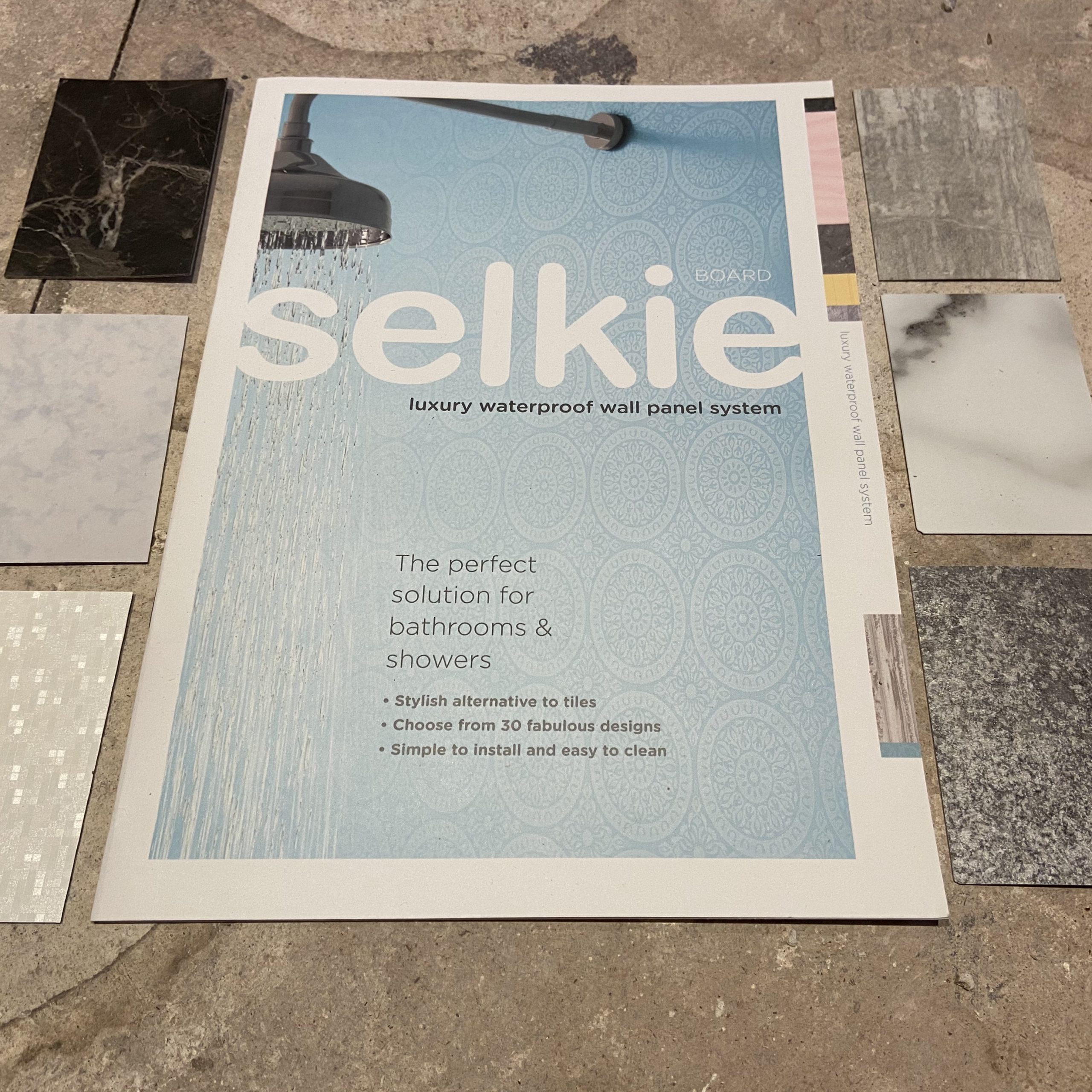 Minerva shower wall panels
When we went to the showrooms, Minerva was another popular bathroom panel among kitchen and bathroom sales reps. They have limited colour options, but their Carrara option looked decent. Bizarrely, they don't dispatch samples; instead they send a printout that's a bit larger than A4.
The problem? Well, the colour of the print out does not match the real item. Looking at the image below, these are both Carrara 'samples'. The print out (which isn't hugely obvious in the photo) in real life has heavy tinges and hues of blue – the actual item is a classier, warmer grey. Not convinced about them from a quality and pricing perspective.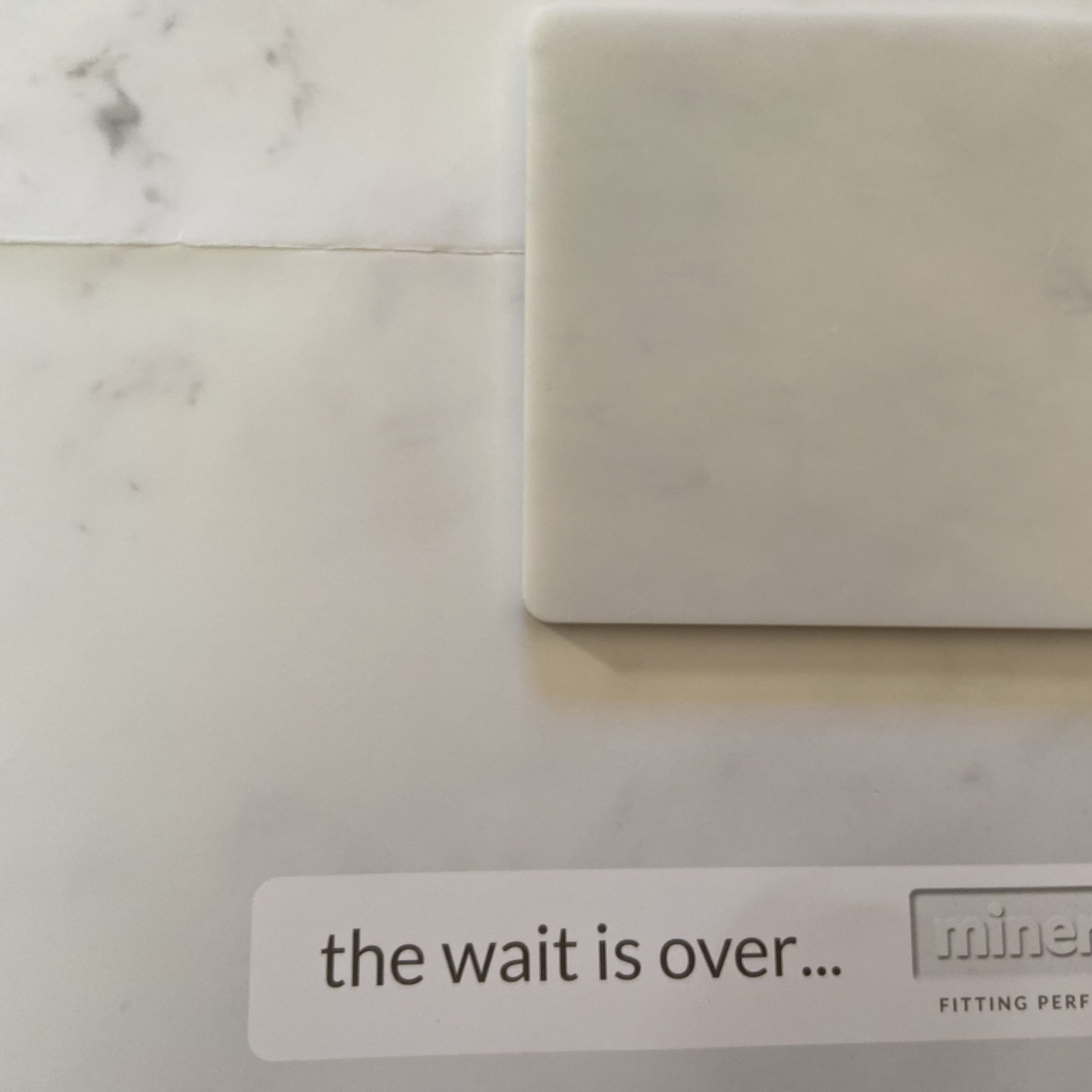 Multipanel
Another very popular choice in showrooms. It's well made and would have been a consideration, but their colour and design options just weren't working for us.
They charge £1.50 for postage and they're the only manufacturer that we contacted that does this. We never requested samples as their colour options weren't suitable for our project.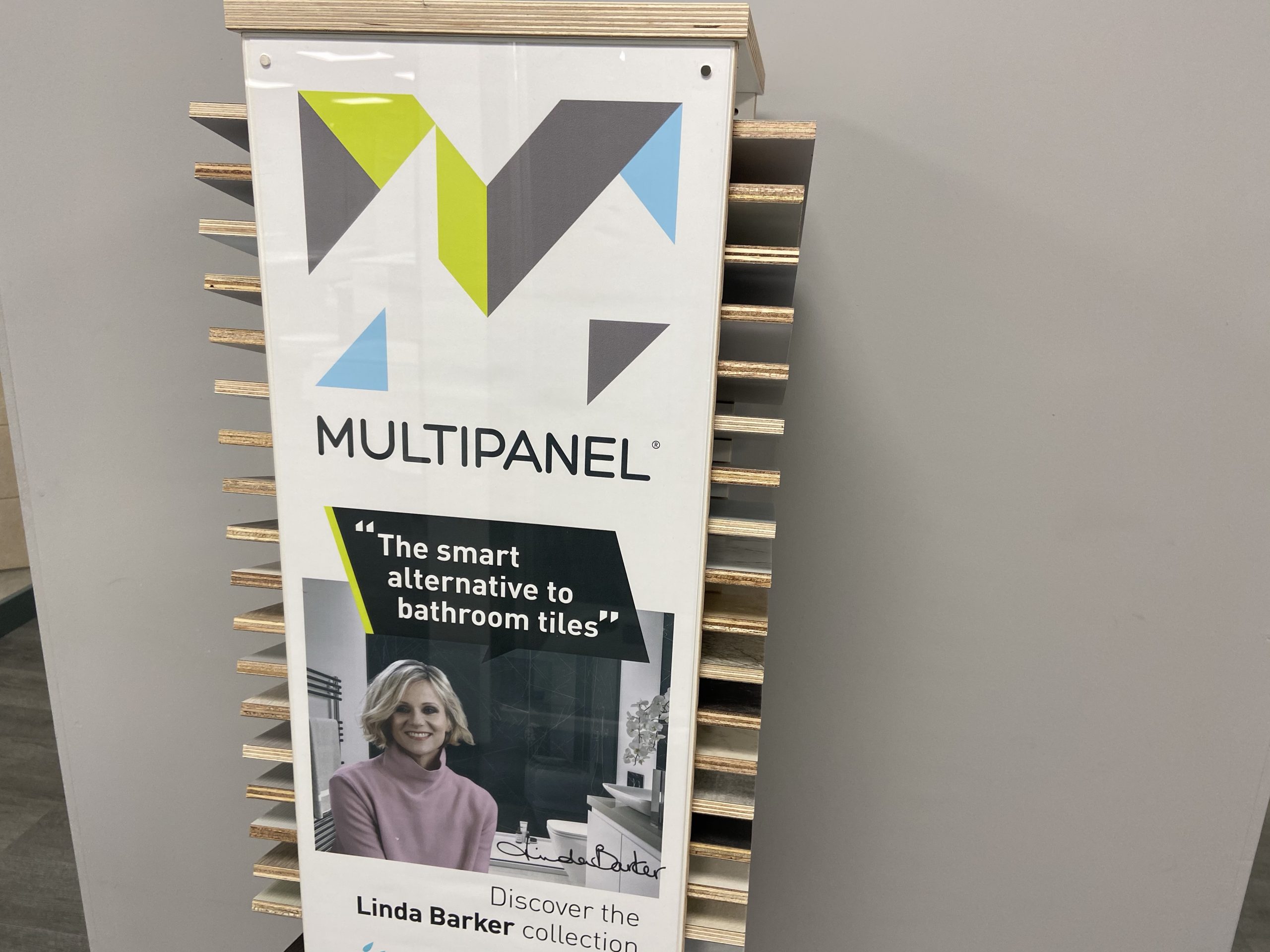 Nuance from Bushboard
Another popular product with a wide range of products. The swatches and samples sent were very small once again, making a shower panel decision trickier than it has to be. Had we not seen the physical products in showrooms, the swatches would lead you to believe that this is not a high quality product.
We don't think that the colors are going to work for us and the samples are confusing because there are distinctly different visuals of the same sample on either side of the card.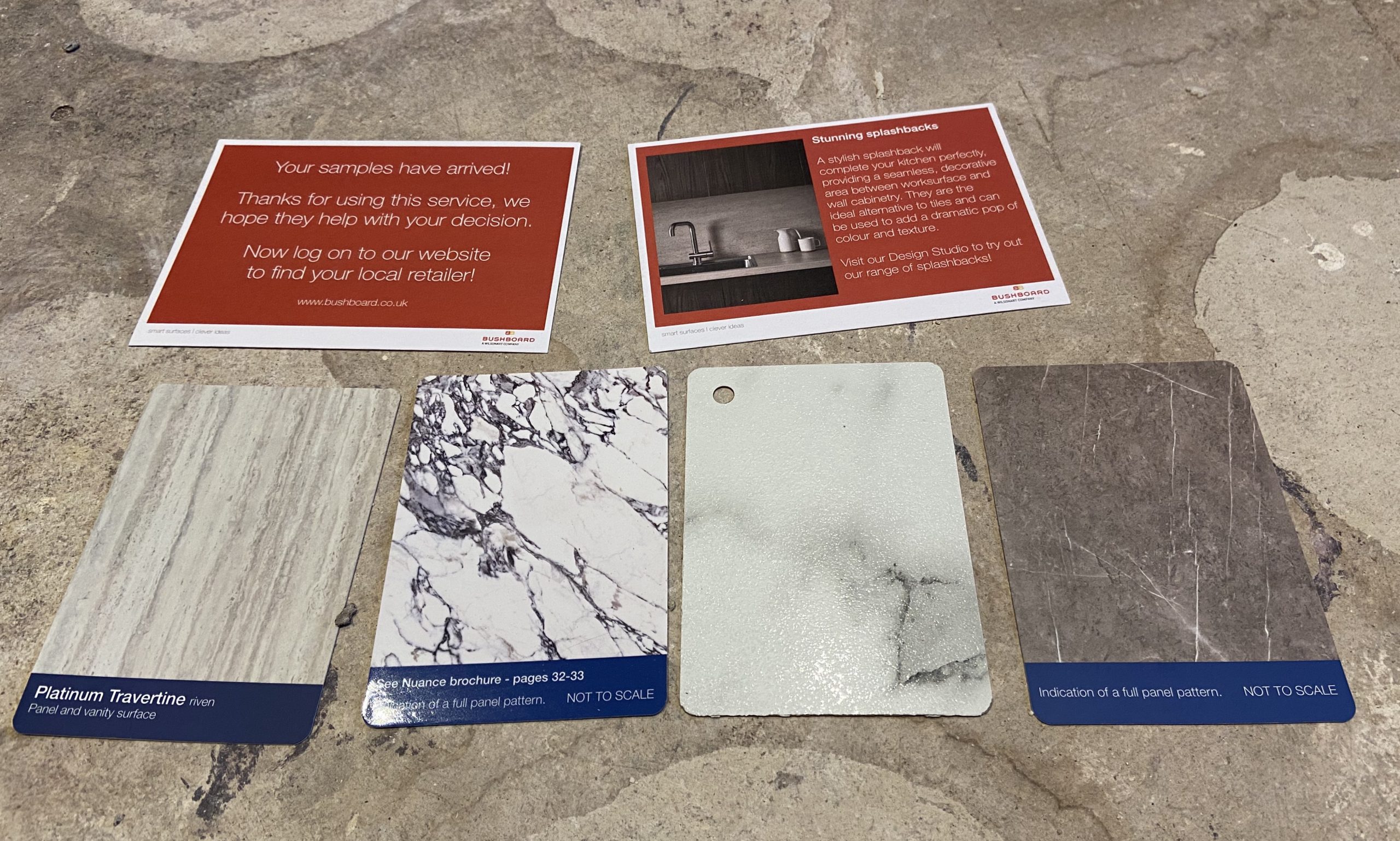 Final decision
Bottom line is we're still undecided. Trying to find the right balance between colour, quality and price is proving to be a nightmare. We'll update this post when a decision has been made.