Shortly after moving into our new house, we established a delicious tradition: pizza movie night on Saturdays. This has allowed us to experiment with our dough and come up with best homemade stuffed crust pizza recipe. Follow our step-by-step video to making our delicious pizza.
Stuffed crust pizza recipe ingredients
500g of strong flour (you can use plain flour, but the dough won't be as elastic)
300ml of water
3 teaspoons instant yeast
1 tablespoon olive oil
2 generous pinches of salt
Take the ingredients, put them in a mixing bowl. Using a dough hook on your mixer, mix the dough for 10 minutes. Once done, cover with a clean towel and leave to prove for eight hours.
Tomato base ingredients
500ml tomato passata (we use Tesco vine ripened tomato pasta)
2 tablespoons balsamic vinegar
Pinch of salt – season according to your taste
2 tablespoons dried Italian herbs
Put all ingredients in a small saucepan, stir, and leave on a low heat for 15 minutes to reduce, stirring occasionally.
These are the toppings we use and love, but you can use any of your favourite toppings:
Chestnut mushrooms
Freshly crushed garlic in olive oil
Thinly sliced red onion
Black and green olives
Grilled and marinated artichokes
Yellow pepper/capsicum
Mozzarella and/or cheddar cheese (you can use any grated cheese you like the taste of on your pizza)
Kirsten likes to occasionally move away from the vegetarian option and finishes off her pizza with prosciutto. She then tops off it with rocket. If you want to be a bit more indulgent you can grate some Parmigiano-Reggiano cheese for an extra salty kick.
Other toppings we also like, and that you can use, are avocado, courgette and sun-dried tomato. In truth, you can top off your pizza with whatever you love the taste of.
Baking
Get your oven as hot as possible. We set our fan-assisted oven to 220C and leave it for 6-7 minutes to get really hot. The optimal baking time for our oven is 11 minutes. we then open the doors and let the steam and heat escape for one minute which prevents soggy bottoms. There was a fair amount of experimentation to get the perfect bake, so you'll have to experiment with your oven.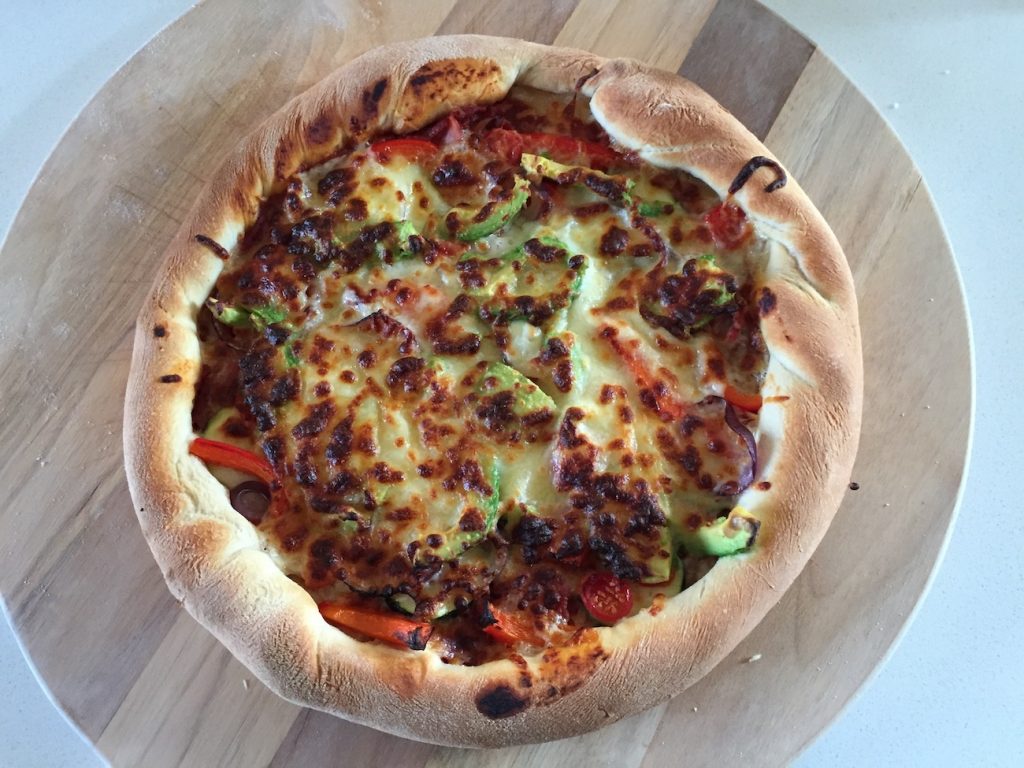 We hope you enjoyed our stuffed crust pizza recipe. Bon appetite.
Music credit:
Old Bossa by Twin Musicom is licensed under a Creative Commons Attribution licence (https://creativecommons.org/licenses/by/4.0/)
Artist: http://www.twinmusicom.org/