Last year we made the decision that going forward we will try to only buy plastic free, zero-waste, sustainable gifts for our friends and family. Here are five suggestions if you are looking for eco-friendly gifts that both the recipient and the planet will thank you for.
Six Soaps from Soap Folk – a wonderful small business in Gloucestershire that makes beautiful handmade soaps that are palm-oil free with natural ingredients, cruelty free, plastic free, eco-packaging, no nasties and only have natural pure fragrances. The Travel Soap Gift Set & Mini Ceramic Dish is a great introduction to six of their soaps and comes with a handmade mini soap dish made from stoneware clay. A really lovely gift that will be used for years to come and will suit any home, presented in pretty packaging. I have this soap set and I use it regularly and will happily be buying it as gift this year.
Luxury Tea Towels from Wanda Coyne Collection – I stumbled across this incredibly creative small business on Etsy and now I buy directly from their website. They have a stunning range of tea towels and totes, and each one has its own unique story as the vintage designs have been carefully selected from antiquarian books. With so many beautiful designs to choose from, the collections include Botanical, Zoological & Porcelain. All products are made in the UK and are from thick 100% cotton. I have bought a number of the tea towels and each one is a statement piece. The colours are vibrant and always wash extremely well, have a handy hanging loop and these are most certainly tea towels that will last for years and make a beautiful unique gift.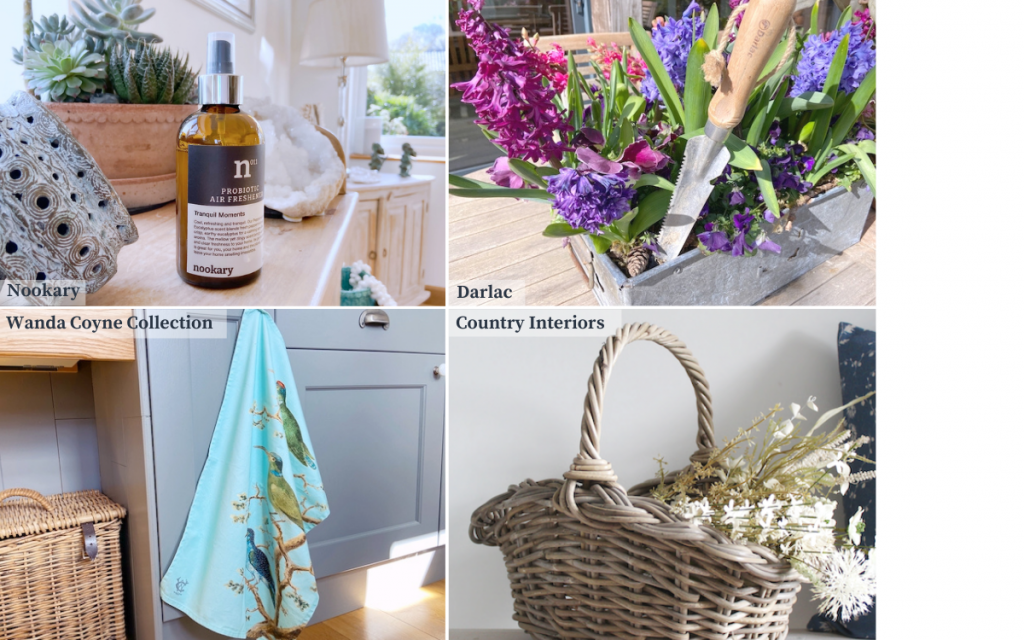 Natural Room Freshener from Nookary – I wish synthetic fragrances and the harmful effects of chemical, toxic air fresheners were spoken about more frequently because as an allergy and asthma sufferer I have only purchased natural room sprays for years. Natural, non-toxic fragrances are not only safer for you, your family and pets, but are also far better for the environment. The Nookary Probiotic Air Fresheners come in amber refillable glass bottles with essential oil fragrances, are vegan, cruelty and palm oil free, biodegradable and have clever probiotics to breakdown horrible odours. My favourite scents from this range are Sicilian Lemon, which has uplifting and citrusy fresh notes, and Tranquil Moments, which has a more earthy eucalyptus deep fragrance. You might also want to check out their all purpose, probiotic cleaner.
Kubu Carry Basket from Country Interiors – I am not sure you would believe me if I told you how often I use my wicker and rattan baskets. I always grab one when we go out whether it's to the farm shop, garden centre or for a day out. I even use them in the house, instead of having arms full of things, usually different shapes and sizes, and then stuff falling all over the place, it's much easier to just grab a basket. As gardeners growing our own vegetables and flowers we just cannot have enough baskets in the summer. They make such a lovely long-term gift and are not only incredibly useful and attractive in the home, they also remind us all to avoid using plastic bags. Country Interiors is a small business in the Cotswolds run by Jessica Kendall who clearly has the most gorgeous eye for home interiors and has curated a beautiful shop. I have my eye on a couple of her ceramic vases.
Darlac Bamboo Handle 5 in 1 Trowel – Gardeners will rarely say they have too many good quality tools in their shed and there has been a lot of hype over Hori Hori knives in the last few years. While useful, not all Hori Hori knives come with a serrated edge and they can run up to the £50 mark which doesn't fit all budgets. The Darlac 5 in 1 Trowel ticks all the same boxes as a Hori Hori knife but at a fraction of the price. The bamboo handle is smooth and comfortable and I must say I have used mine a lot already this winter and spring, and I am sure I will be reaching for it a lot more over the course of the summer, especially when the weeds start shooting up. The 5 in 1 trowel is very clever and it really does cut down on how many tools you have to lug around the garden with you. A very nice practical, sustainable and useful gift.