Living sustainably and trying to only use products that are clean, natural and environmentally-friendly is not always easy. Over the last two years we have tried numerous products for the shower and bath, and nothing has really wowed us.
Some of the typical things that we have not loved about other shower gels or bath soaks have been that they were expensive, heavily scented, an unpleasant fragrance or had some very strange textures. One that springs to mind was a brand that was positioned as vegan, earth-friendly, natural and clean, but the shower gel came out shimmery with some kind of bizarre pearl effect, which was a bit of a surprise and not really what we wanted.
So when I found the new Baylis & Harding Goodness range I was intrigued. The fragrance options sounded lovely so I ordered the Sea Kelp & Peppermint, Lemongrass & Ginger and Rose & Geranium.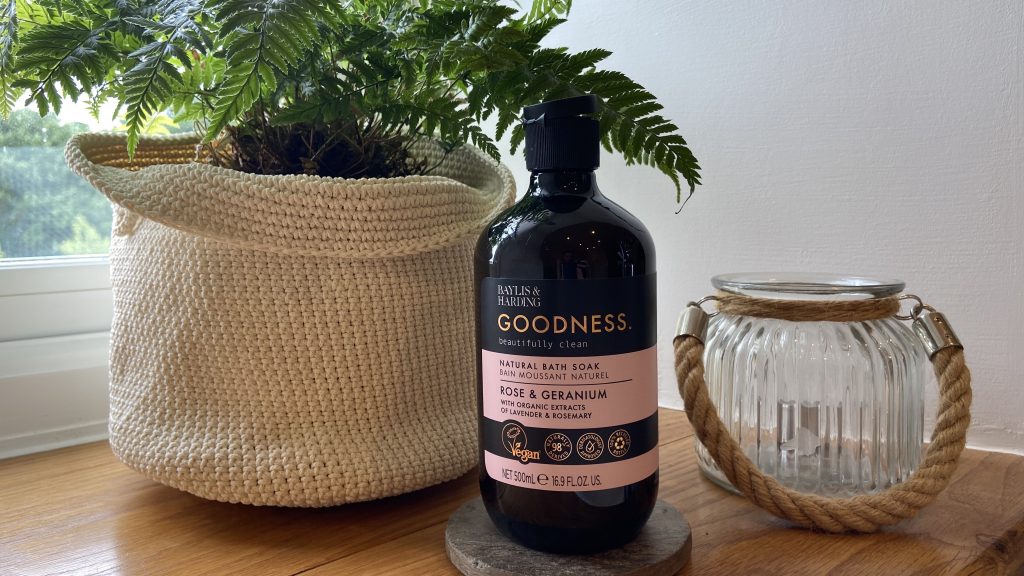 The black 100% recyclable packaging protects the essentials oils from UV light, which have been used in the natural plant based ingredients. The branding is smart, stylish and looks very nice sitting on the shelf in the shower. You also get a good amount for your money with the 500ml bottles; it's a generous size which lasts the two of us at least six weeks.
The ingredients list is clean, vegan, packed with a biodegradable formula, which works for us on a home sewage treat plant (not mains) and is free from all the usual rubbish: silicone, parabens, sulphates, SLS and the rest. Low on carbon footprint, it is made in England by a family business whose values are clearly entrenched in this range.
As someone who has sensitive skin and reacts quickly to chemical-based products and synthetic fragrances, my skin feels soft and clean after using both the body wash and bath soak. Unlike some other brands I have tried recently, which left my skin dry, I actually feel very gently moisturised and there is a delicate natural fragrance left on the skin which is subtle and very pleasant.
I look forward to trying more of the range and applaud Baylis & Harding for creating this beautiful natural based range that oozes luxury, is well priced and affordable, and works for sensitive skin.
Yay for the Baylis & Harding Goodness range, it really is goodness in a bottle.