At this time of year UV levels are usually very high in the UK (over 7 this past week) and as we spend most of our days in the garden I do not step out of the door without a decent sunscreen. I wear sunscreen all year round but I am particularly vigilant during the summer months and I make sure we have sunscreen located all over the house for quick applications – near the front door, in the kitchen and on the dressing table.
At 42 years of age, I have inherited sensitive, pale skin that burns easily and I battle hyperpigmentation which means I get sun spots and dark pigmentation patches very quickly, mostly on my face, if I am exposed to the sun. Unfortunately these patches can appear in a matter of days and can be almost impossible to get rid of, so my best line of defence is a serious sunscreen and covering up.
Since I was in my mid-30s I have only used suncreams that are at least SPF50+ and tick a few extra boxes such as good for sensitive skin, cruelty free, fragrance free, natural and invisible on the skin. This criteria has meant, until recently, I have had very few choices, but there are more sunscreens coming onto that market that do offer all these things and more. A new contender is Arc Suncare, a small company based in South Tyrol, Italy, where they make their environmentally-friendly sunscreens.
One of the main issues still remaining with a lot of high street sunscreens is that while some claim to be gentle on the skin they are not so gentle on the environment or indeed even our bodies.
There are three main types of sunscreen categories: chemical, mineral or a mix of the two.
Chemical sunscreens use a mix of chemical filters to block UV rays and contain common active ingredients such as oxybenzone, a chemical that is potentially hormone-disrupting and is readily absorbed by the body, and other chemicals known to irritate sensitive skin and contribute to the degradation of coral reefs. These chemical compounds contaminate waters and pose a threat to fragile reef ecosystems. In the United States, the FDA (Food & Drug Administration) are considering following the lead of a number of other countries and banning chemical filters as there is no scientific evidence that they are indeed safe for humans.
On the flip side of the coin, you have mineral sunscreens that use natural ingredients such as zinc oxide to deflect the UV rays away from the skin.
When Arc Suncare asked us to try out their sunscreen, I was excited because they use natural, mineral ingredients, offer high SPF50+ UVA and UVB protection, are reef and ocean friendly, cruelty-free, and suitable for sensitive skin and active wear.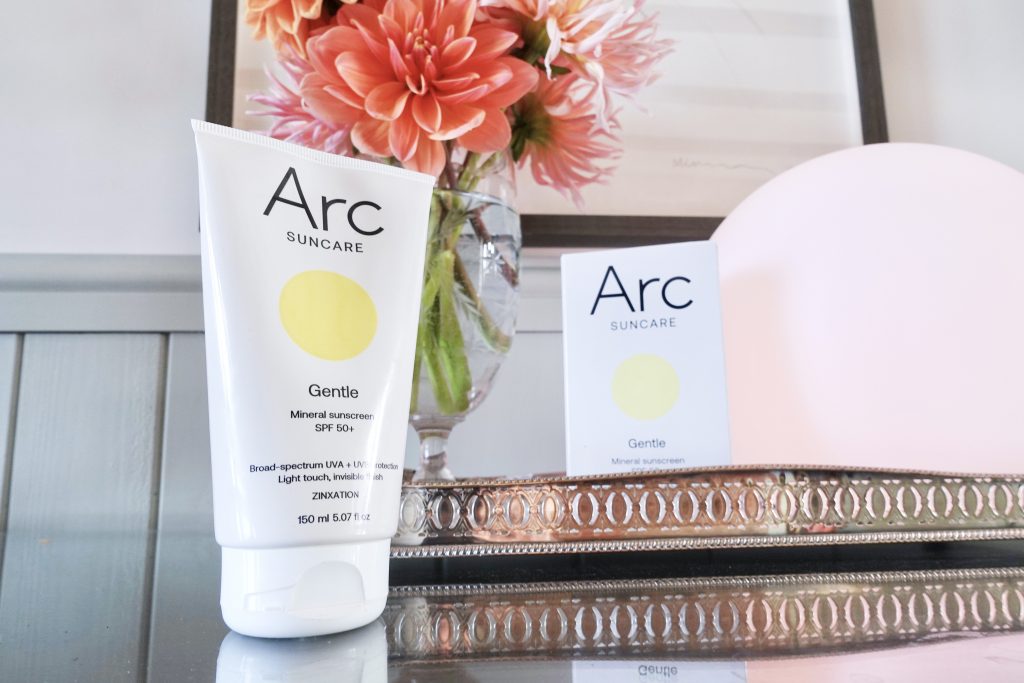 They kindly sent us Arc Gentle to try and it claims to be a lightweight and transparent sunscreen. When we used it, we thought it was quite thick, but you need to only apply small amounts of the cream in different places and gently rub it into your skin. As long as you apply it like this it does feel lightweight and does appear transparent.
It not only gave us good sun protection, but we tested it on very hot, sweaty days (+30C) with clear skies when we were out gardening for the majority of the day and were both very active. Arc Suncare have added white bees wax to the cream which means it stays in place on the skin for hours. We also used the sunscreen while watering the garden and I did notice that where my arms and hands got wet the sunscreen remained very much in place and did not wash off.
While the active ingredient in Arc Gentle is zinc oxide, they've supplemented the formula with vitamin E and jojoba oil for extra skincare. And it works because after a long day in the garden in the scorching sun, I took a shower and my skin felt soft and hydrated and the zinc oxide protected me from the harmful UV rays.
Based on our experience, we would recommend this environmentally-friendly natural sunscreen to anyone that is looking for a sunscreen thats works as hard as they do. Arc Gentle also says it is safe for children, pregnant women and for people with sensitive skin.
Arc Gentle sells for €25 for a 150ml bottle and we think that this is a good price point when compared to other sunscreens on the market because you don't have to apply it as frequently as other sun creams as the coverage and wear resistance is great.
It's a fantastic product, and if you're looking for a natural, environmentally-friendly sunscreen, this is one that is definitely worth checking out.